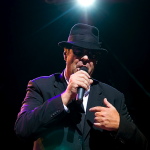 "If it hadn't been for Carleton [University], The Blues Brothers movie would never have been made."
"I never wanted to be a solo act. My strength is in collaboration, and I feel a kinship with an ensemble to make a project whole."
"As soon as we met there was an instant rapport. It was like Stanley meeting Livingstone."
Ackroyd referring to his first meeting with John Belushi
"Funny us going out like this, killed by a 100 foot marshmallow man"
Red, White & Canadian Featured Article on Dan Aykroyd
Dan Aykroyd Trivia Eh?
Category: Canuck Quotes, Comedians
I'm a Canadian who has lived in the United States since 1999. I love the beauty of the Canadian landscape and dream about travelling to EVERY country in the world so I can say, without a doubt, that Canada is the MOST BEAUTIFUL country in the world. Until I can accomplish this feat of huge financial proportions, I'll continue to appease myself by writing about Canada's many, MANY virtues.
Google+