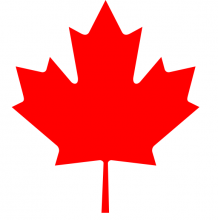 It's believed that the maple leaf became a Canadian symbol as early as the 1700's.
Indians have been using the sap of the trees for food long before Canada saw ships on its horizon.
Several groups used the Maple Leaf as a symbol in the 1800's, including its use on the badge of the 100th Regiment. The same year (1860) it was used as a decorative theme for the Prince of Wales visit.
Alexander Muir wrote "The Maple Leaf Forever" in 1867 as a song for Confederation.
The Maple Leaf appeared on all Canadian coins in the past but is currently only on the penny.
It continued to be used as badges on military uniforms throughout the years as a Canadian distinction. It wasn't until the colour of the maple leaves on the Arms of Canada were changed from green to red, that it began to resemble the symbol of today. The single red maple leaf appeared on Canada's official National Flag in 1965.
The Maple Leaf Forever by Alexander Muir
In Days of yore,
From Britain's shore
Wolfe the dauntless hero came
And planted firm Britannia's flag
On Canada's fair domain.
Here may it wave,
Our boast, our pride
And joined in love together,
The thistle, shamrock, rose entwined,
The Maple Leaf Forever.
[CHORUS]
The Maple Leaf
Our Emblem Dear,
The Maple Leaf Forever.
God save our Queen and heaven bless,
The Maple Leaf Forever.
At Queenston Heights and Lundy's Lane
Our brave fathers side by side
For freedom's home and loved ones dear,
Firmly stood and nobly died.
And so their rights which they maintained,
We swear to yeild them never.
Our watchword ever more shall be
The Maple Leaf Forever
[CHORUS]
Our fair Dominion now extends
From Cape Race to Nootka Sound
May peace forever be our lot
And plenty a store abound
And may those ties of love be ours
Which discord cannot sever
And flourish green for freedom's home
The Maple Leaf Forever
[CHORUS]
Category: Canadian Symbols, Patriotic Patter
I'm a Canadian who has lived in the United States since 1999. I love the beauty of the Canadian landscape and dream about travelling to EVERY country in the world so I can say, without a doubt, that Canada is the MOST BEAUTIFUL country in the world. Until I can accomplish this feat of huge financial proportions, I'll continue to appease myself by writing about Canada's many, MANY virtues.
Google+