You may recognize the view of Moraine Lake from the back of the 20 dollar bill distributed in 1969 and 1979.  Moraine Lake is located in Banff National Park near the village of Lake Louise.  I consider it to be the most beautiful lake view in the entire park.  I've walked the main trail around the lake several times over many decades but I've never had the opportunity to hike any of the trails off the beaten path.  This time I planned to try to hike one of the trails but we weren't able to because there were only three of us and the trailhead had a sign posted warning us it was unlawful to hike with fewer than 4 people due to bear activity.
The lake itself is a beautiful colour from the glacier that feeds it.  You can see the glacier dipping down toward the lake and makes for a beautiful backdrop from the Valley of the Ten Peaks. The lake and store are located at an elevation of 6183 feet in the valley.
A gigantic pile of rock  – moraine – is situated at the parking lot end of the lake beside the canoe rental dock.  Moraine is the rocks and sediment carried by a glacier and then left after the glacier retreated.  My adventurer son, kicked off his flip-flops and climbed the mountainous rubble in bare feet to get a better view of the lake.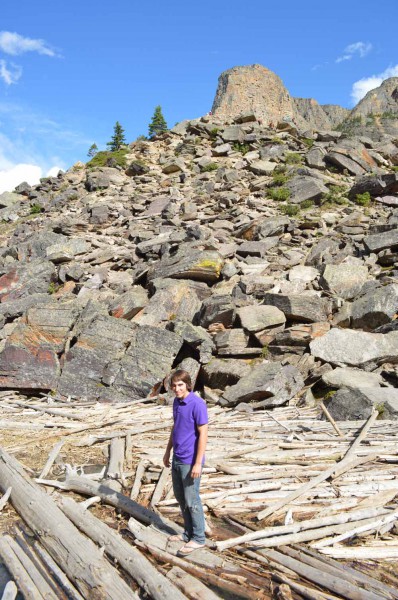 At the opposite end of the lake you'll find a glacial river weaving it's way around spindly pine trees with shallow roots to empty into the signature blue-green of a glacier fed lake.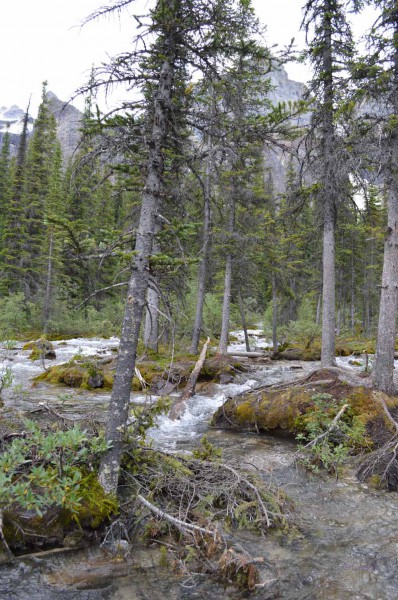 View all the Road Trip Diary posts here.