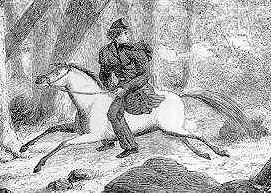 "My dear comrades, my heart is so full I cannot say what I would to you. Tears are in my eyes, but I shall never, never forget your love and kindness to Frank Thompson. All that I can say is that I am deeply grateful, and may God bless you."

Sarah Emma Edmonds during a speech at an Army Reunion
"I am naturally fond of adventure, a little ambitious, and a good deal romantic – but patriotism was the true secret of my success."
Read more about Sarah Emma Edmonds life here.
Category: Canuck Quotes, Historical Figures
Know a Canadian, expat or not with an interesting life story? We're looking for people with an online presence who would like to be featured on our site. If nominating someone to be featured or if you have a Canadian content joke/idea/story, submit it to info@canadianaconnection.com. You can also message
@canadaconnect
or
@cletch
via twitter.