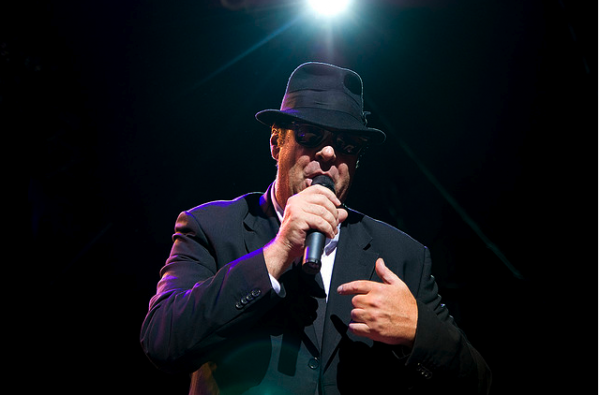 Dan Aykroyd was born to Samual Cuthbert Peter Hugh Aykroyd and Lorraine (Gougeon) Aykroyd. Aykroyd's father was assistant deputy minister of transport at one time and his mother was an executive secretary within the Canadian Government.
Aykroyd came from a strict Roman Catholic family and considered attending a seminary until his high jinx intervened with the plans. Instead he attended Carlton University in Ottawa taking psychology, criminology & political science. He left Carlton without a degree but has gone onto incredible success with his comedy & music.
Although having been involved with theater and cable television, his first "break" came when he joined the cast of Second City in Toronto, Ontario. Eventually Aykroyd, John Belushi, Chevy Chase, George Coe, Jane Curtin, Garrett Morris, Laraine Newman, Michael O' Donoghue and Gilda Radner joined Canadian, Lorne Michaels, to form the first Saturday Night Live cast.
It was here that Aykroyd & Belushi developed many of their famous characters, including the Blues Brothers which brought them movie roles and recording hits. Aykroyd, in Elwood character, hosted a syndicated radio show called House of Blues and was one of the original investors in the House of Blues, now a chain of restaurant/bars.
Below is a video of an interview with Aykroyd about Belushi.
Aykroyd has some unique hobbies & interests. The first being his collection of old police paraphenalia. He can be seen riding an old OPP (Ontario Provincial Police) motorcycle. His grandfather was a Mountie.
The second is his interest in the paranormal, which possibly spawned the Ghostbusters stories. He also worked with his brother as narrator of the television show PSI Factor: Chronicles of the Paranormal.
This topic is familiar to both Aykroyd's as their father, grandfather and great-grandfather collected paranormal research. Their great-grandfather was a principal member of the British Society of Psychic Research.
Aykroyd has appeared and starred in numerous films including Driving Miss Daisy for which he was nominated for an Academy Award. He's also produced and directed.
In 1999, Aykroyd was awarded the Order of Canada which "recognizes a lifetime of distinguished service in or to a particular community, group or field of activity."

Aykroyd keeps us engaged with his many varied interests and talents, including investing and partnering with Diamond Estates Winery of Toronto. Together they will be opening the Dan Aykroyd Winery in Canada's exceptional Niagara wine region.
He co-wrote the story line and added his voice to the 2009 Atari distributed "Ghostbusters: The Video Game."
Dan Aykroyd Trivia Eh?
Dan Aykroyd Canuck Quotes