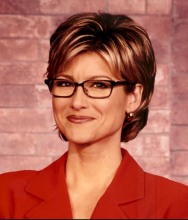 2011 update:
Banfield currently cohosts a 2 hour legal news program called Banfield and Ford: Courtside on a daily basis and a weekly program called Hollywood Heat. She also co-produces and created the Disorder in the Court series. She is married to Howard Gould, and has two sons, Jay Fischer and Ridley Banfield.
(Published September 2002)
Most of us remember Ashleigh Banfield's "on location" reporting from September 11, 2001. She reported the events "live" for 8 days, with very little sleep or food for the first two. Her reporting allowed millions of people to go through the trauma and the experience with her. Banfield's account was so honest, raw and well received by viewers that she is now anchoring her own show on MSNBC called "Ashleigh Banfield: On Location". In the 5 weeks before the first anniversary of the attacks on the United States, she has been given her own bus and is on a cross country tour gathering American opinions and on how the country has changed since 9/11. Her Canadian roots have allowed her to report on American opinions and beliefs from an unbiased and fresh perspective.
Starting last November, she reported for primetime series 'A Region In Conflict', from Afghanistan, Israel, England, Israel (Tel Aviv, West Bank), Jordan, Lebanon (Beirut) and Syria.
Prior to September 2001, she co-anchored Newsfront, covered the 2000 Olympics Games and the 2000 election.
Her career began in Canada with a bachelor's degree in French and Political Studies from Queen's University in Kingston, Ontario. Her first position was photographer/researcher/reporter in Kenora. She moved onto Winnepeg as a researcher/reporter for the evening news. From 1989 to 1992, Banfield was the evening news anchor on weekends at CFRN in Edmonton, Alberta.
She worked at Calgary's CICT-TV as a producer and evening news anchor. and at times simultaneously worked as an associate producer for ABC's "World News Tonight". She left CICT in 1995, anchored at Dallas' KDFW-TV and currently reports for MSNBC.
Image courtesy of AshleighBanfield.com