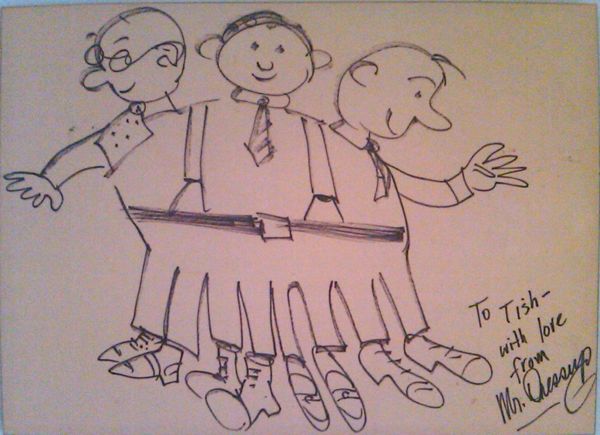 If Tickle Trunk, Casey, Finnegan and Mr. Dressup are familiar terms to you ~ then you have been a child in Canada. For the younger generation, Chester the Crow, Truffles and their friends would be familiar too.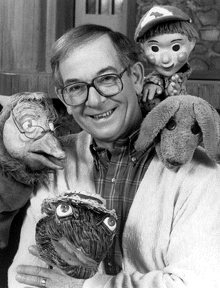 Mr. Dressup was a Canadian television icon. From 1967 to 1996, Ernie Coombs brought pleasure and imagination to Canadian children. Not many people know that Coombs was born an American and followed Fred Rogers when he was developing Mister Roger's Neighborhood on the Canadian Broadcasting Network (CBC). Within 1 year Coombs had his own children's program in Canada. Butternut Square starred Coombs from 1964-1967. When it was cancelled Coombs presented a new improved version called Mr. Dressup.
My father worked for CBC his entire career and at that time, was working in the same building that Mr. Dressup was being taped. On one of the many occasions I accompanied my father to work at his Jarvis Street office, he had a special surprise for me. I was introduced to Mr. Dressup, Casey and Finnegan in a private meeting around 1969.
Coombs quickly sketched the above picture for me and signed it during my visit. I have treasured it ever since. He told me it was a self-portrait ~ although I didn't see any resemblance!
Category: Children's Entertainers, Red, White & Canadian
I'm a Canadian who has lived in the United States since 1999. I love the beauty of the Canadian landscape and dream about travelling to EVERY country in the world so I can say, without a doubt, that Canada is the MOST BEAUTIFUL country in the world. Until I can accomplish this feat of huge financial proportions, I'll continue to appease myself by writing about Canada's many, MANY virtues.
Google+