(featured 2001)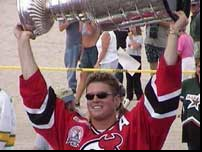 I met Jason Arnott when I was a freelance reporter and photographer for the Wasaga Sun, in Wasaga Beach, Ontario. He was hosting his third Jason Arnott Tournament for Cystic Fibrosis. Arnott began playing hockey in the area and soon outgrew the local leagues and began playing in Oshawa. It wasn't long before he was drafted to Edmonton. Of course, he now plays for New Jersey and scored the final goal which won his team the Stanley Cup last year.
Jason also built himself a beautiful riverfront home in Wasaga Beach and everyone knew he was in town when the Viper cruised by! He continues to be respected and loved by the residents and children of Wasaga Beach, not just because he is a nice guy, but also because he continues to support minor hockey there in a variety of ways.
2011 Update:
Arnott was playing with the New Jersey Devils when they won the Stanley Cup in 2000 and has just been traded to the Washington Capitals in February 2011. View Wikipedia for all of Arnott's career details.