(featured April 2003)
Lorne Greene was known the world over as an actor, but many don't realize that he was also an inventor!
Lorne attended Queen's University in Kingston, Ontario. While studying to become a chemical engineer, he participated as actor and director for the school's Drama Guild. His enjoyment of theater, led him to switch his major to Languages.
When CBC (Canadian Broadcasting Corporation) hired him as a news anchor in 1939, he became known as the "Voice of Canada".
Greene served with the Royal Canadian Air Force during WWII. Upon his return, he founded the Academy of Radio Arts in Toronto.
It was around this time that he invented a stopwatch that ran backwards. It's purpose was to help radio announcers gauge how much time they had available while speaking. During a promotional trip of his tool, Greene met Canadian producer Fletcher Markle, also in New York. Markle thought his voice was perfect for a live Studio One broadcast adaptation of George Orwell's "1984". Greene played the role of "Big Brother".
Lorne appeared in several plays including appearances during Ontario's Stratford Festival. Eventually he was performing in movies such as "The Silver Chalice" and "Peyton Place".
In 1959 he appeared in an episode of television's "Wagon Train". It was seen by "Bonanza" creator, David Dortort. Dortort immediately asked Greene to play the role of Ben Cartwright in his new series. He played the role from 1959 to 1973.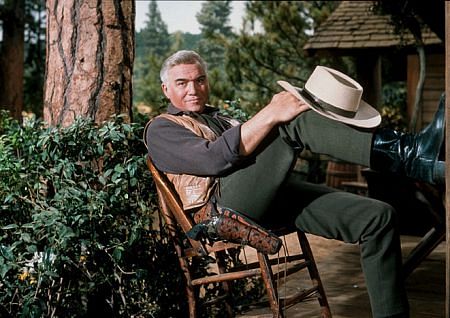 Greene went on to act in "Griff" and "Battlestar Galactica". In Canada, he was host of a syndicated series called "Lorne Greene's New Wilderness", in which he collaborated with his son.