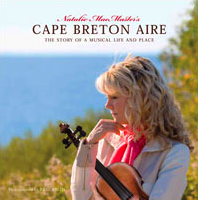 I remember Natalie from the Tim Horton's commercials. (Tim Horton's is a Canadian Donut shop chain- no we don't spell it doughnut) I confess I had never heard of or remembered her from anything else, but while perusing the international music selection at Borders I came across her "In My Hands" album and picked it up unheard. I was not disappointed! I have since picked up other albums but love "In My Hands" the most, particularly the "Get Me Through December" track. I'm hoping she does more of this style in the future….
Natalie hails from Cape Breton, Nova Scotia, where she began step dancing at 5 years old and fiddling at 9. She has been awarded 2 Juno's! (A Juno is like the Canadian Grammy) The first was in 1999 for "My Roots Are Showing" and again in 2000 for "In My Hands".
2010 update: Natalie has just released a book called Cape Breton Aire. The following video is from the book launch in October 2010.
Read Natalie MacMaster's full bio on her website.