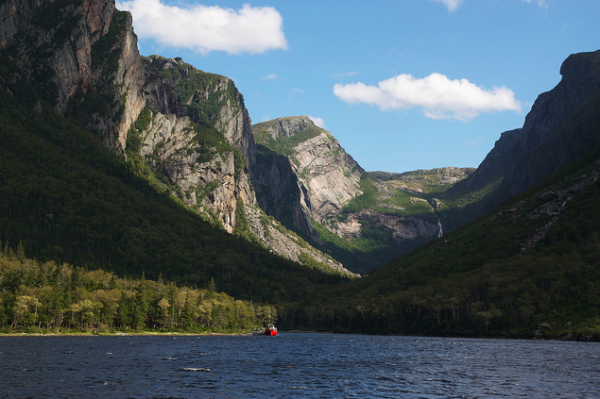 I thought it appropriate to outline this province first, in light of it's part in last week's terrorist attacks. A peek into the world of the brave citizens of Newfoundland. After the horror of the plane crashes into 3 U.S. sites on September 11, 2001, Newfoundland handled a great deal of air traffic – 12,000 people to be precise – that had been diverted from the United States. They did this (as some other Canadian cities did) bravely, without knowing whether any of the planes heading for their airspace carried additional terrorists. There are stories of Newfoundlanders opening their homes and allowing passengers to sleep there – not an unusual concept if you are fortunate enough to know someone from this province. Newfoundland's people are well-known for their hospitality and friendliness. This time they truly outdid themselves! They made 12,000 people comfortable and fed them – organized and carried out quickly while under extreme circumstances.
Newfoundland has made all Canadians proud.
Newfoundland is an island on the east coast of Canada, at the mouth of the St. Lawrence river. Labrador is north of Newfoundland and borders Quebec.
The name Labrador comes from the word "Lavrador" which meant labourer, a tribute to, Joao Fernandes, the person that first spotted the land in 1501.
The name "New found land" seems self-explanatory.
English, French, Portuguese, and Spanish fisherman started plying the waters of Newfoundland in 1534 and have continued since. There has been a cod fishing ban off the waters of Newfoundland since 1992, the fish supplies were depleted and the government imposed the ban to allow them to rebuild. The depletion has created economic stress on the province, since many residents relied on cod fishing as their income. The landscape and weather patterns make non-marine resources scarce.
The Hudson Bay Company was granted Labrador and all the land around Hudson Bay by King Charles II of England in 1668. The French also traded with Indians and Inuit in the area north of the St. Lawrence.
Interestingly, the USA had 3 bases in Newfoundland in WWII. This affected Newfoundlanders economically, as well as culturally. Many women married American soldiers stationed there.
It was the last province to join the Confederation of Canada, doing so in 1949.
Newfoundland and Labrador contain beautiful wilderness and grand vistas. Many people travel to this province for whale and iceberg sightings.
There are 2 UNESCO World Heritage Sites in Newfoundland. The first one is Gros Morne National Park, famous for it's unique geology. It is the northern extension of the Appalachian Mountains and is home to some of the oldest rocks in the world. The other is L'Anse aux Meadows, the site of a Viking Village that existed over 1,000 years ago.
Other than airplane, the only way to see Newfoundland is to travel there by ferry. Depending on your starting and finishing points the trip can take 12 hours to 3 days. Of course, you are able to drive to Labrador via Quebec.
Ode to Newfoundland
When sun-rays crown thy pine-clad hills
And summer spreads her hand,
When silvern voices tune thy rills,
We love thee, smiling land.
When spreads thy cloak of shimmering white,
At winter's stern command,
Through shortened day and starlit night,
We love thee, frozen land
When blinding storm gusts fret thy shore.
And wild waves lash thy strand,
Through spindrift swirl and tempest roar,
We love thee, wind-swept land,
As loved our fathers, so we love,
Where once they stood we stand,
Their prayer we raise to Heaven above,
God guard thee, Newfoundland
by Sir Cavendish Boyle