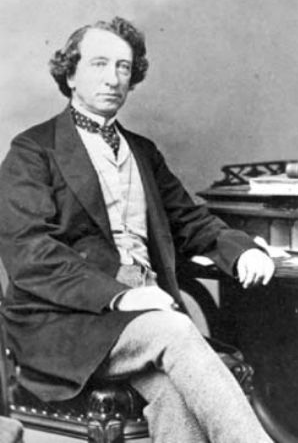 Would you hire a nineteen year old lawyer?
If you lived in Kingston, Ontario, in 1834, you could have hired John A Macdonald to represent your interests.
Macdonald was born in Glasgow, Scotland, in 1815 and immigrated to Upper Canada with his parents when he was five. He articled with a Kingston lawyer at fifteen years of age and opened his own practice at nineteen.
Sir John A. Macdonald developed a reputation for being a great trial lawyer and represented both of Kingston's banks.
His first year in politics was in 1843 when he served as Kingston's Alderman. The following year he was elected as Conservative representative for Kingston, in the Legislative Assembly of the Province of Canada. He was later appointed attorney-general and served as co-premier from 1856 to 1862.
John A believed in joining the eastern provinces into a Confederation. Initially the provinces balked for their own personal reasons but after the American Civil War, the Fenian Raids of 1866 and concerns about American foreign policy, they realized defence of the British North American colonies would be easier as a group. Macdonald drafted the British North America Act and was eventually knighted for his part in confederation. He had helped unite the provinces, Ontario, Quebec, New Brunswick and Nova Scotia as the Dominion of Canada, July 1st, 1867.
Sir John A. Macdonald was appointed the first prime minister of this new country, he was elected in the the position the following month.
In the following years Manitoba, Prince Edward Island, British Columbia, Alberta & Saskatchewan joined Canada. He also began a railway between Quebec City and Halifax with plans for the Canadian Pacific Railway.
He continued a long career in Canadian politics until his death in 1891.