The Yukon was named for "Ya-kun-ah", the largest river that flows through the territory. The Yukon River is one of the great waterways in North America and is the same length as the Mississippi and Missouri Rivers.
Yukon's name and history are deeply rooted in the legends and experience of the First Nations people. Stone tools found in caves on the Bluefish River are dated to 20,000 years ago, proving that the area was inhabited at that time.
First visitors to the Yukon came from Russia by way of the Alaskan coast in the 1700's. A Dane in the Russian Navy, Captain Vitus Jonasen Bering, explored the land. He recounted stories of great numbers of furred animals that led to Russian fur trade in Alaska. Yukon First Nations groups traded with Russians, Americans and the British. Eventually the Hudson's Bay Company and some American companies set up trading posts along the Yukon River.
The year 1870 brought prosperity to the Yukon when George Carmack, Skookum Jim and Dawson Charlie discovered gold in a tributary of the Klondike River in 1896. Dawson City became the center of the ensuing frenzy. It's population grew to 40,000 people. Fortunes were made for a few from the gold and for many on the services supplied during that time.
Yukon and Alaska had been tied together through waterways and sea. It was disappointing to the Yukon people when the Alaskan panhandle was given to Alaska during a land dispute, leaving the Yukon with only 200 km of Arctic Coast. Three mountain passes allow travel between the Alaska and the Yukon. The interior of the territory is a large plateau with a tundra plain along the Beaufort Sea.
On June 21st above the Arctic Circle, there is more than 24 hours of sunlight. On December 21st there is 24 hours of darkness. The climate is sub-arctic; the average temperatures do not rise above 10 degrees Celsius (50F)for a maximum of four months per year. Brrrr!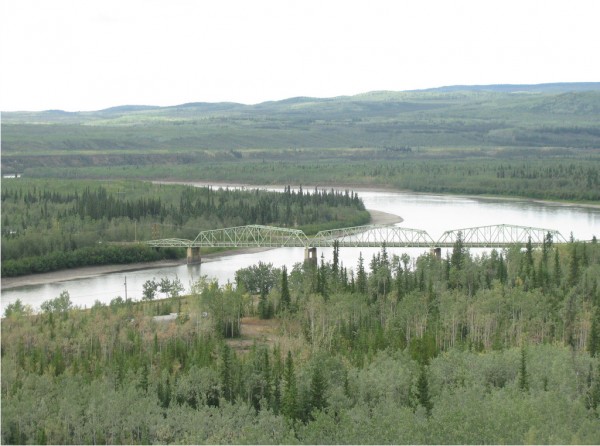 Photo Credit
Panoramic Photo Credit