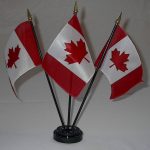 The Canadian flag was officially inaugurated on February 15, 1965. The Flag of the United States was adopted in 1777. The current flag of the United States was inaugurated in 1959.
Since December 18, 1964, the Union Jack is flown in Canada as a symbol of membership in the Commonwealth and allegiance to the Crown.
In August 1943 Roosevelt (USA), Churchill (Britain) and King met in Quebec City for a conference. On the Citadel, the Red Ensign flew below the Union Jack while the US flag flew at an equal height to the Union Jack. From that day, on King's recommendation, the Canadian flag has flown as an equal counterpart to Britain and other nations.
Colours of the Canadian Flag were chosen to represent the following:
Red: to signify the English, loftiness, royalty, assurance & military virtues
White: to signify the French, probity & loyalty.