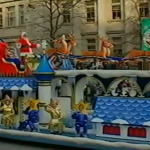 The Toronto Santa Claus Parade started two decades before the Macy's Thanksgiving Day Parade, and in fact inspired the famous annual big show in New York.
The Toronto Santa Claus Parade has been running steadily, without missing a year, since 1905.
Statistics for the 2011 edition of the Parade include:

A parade route that's almost 4 miles long
A participant list that includes over 1,700 people
An estimated live audience, on the parade route, of over half a million people
A worldwide television audience, with tens of millions watching in North America alone
24 floats and 24 bands
One Santa Claus and for the first time in the history of the parade, Santa will bejoined by Mrs. Claus!

CBS television picked up a few minutes coverage of the Parade in the early 1950's, but due to American audience demands, later began to carry it in its entirety.
The Parade was started by the folks at Eaton's, a now bankrupt department store.
Santa has arrived in Toronto for the parade by almost every conceivable means of transportation, from a traditional sleigh pulled by real reindeer, to an airplane.
Santa originally arrived at Toronto's Union Station in 1905 by train.