This is our third piece in the Star Trek Canadian 'collection'. While we only got to see her in one of the movies—Star Trek VI—she made an impact as the scheming Vulcan Starfleet Officer named Valeris. Not as large an impact as she made on Sex and the City, but still, her role was a pivotal one in the last movie where the entire original crew was present. (Our next Star Trek focus will be on Christopher Plummer, who also had a larger-than-life role in that same movie.)
Kim Victoria was born in Mossley Hill, Liverpool, England, on August 21, 1956. She has two older sisters and a younger brother. Much of her childhood was spent in Canada, where she lived at various times in the Courtenay and Little River areas of British Columbia. She went home when she was 11 (her grandmother was ill), but came back to finish her schooling in Canada when she was 16. She won a scholarship at the prestigious American Academy of Dramatic Arts in New York, and during her last year (1975), landed a role in Preminger's Rosebud. Following that, she returned to the theatre, and did repertory in Vancouver and Toronto, before getting a Universal contract in Los Angeles. According to IMDb, many of Kim's films have been shot in Canada. One of Kim's most recent projects, Noël Coward's Private Lives, ran in September & October 2011, and promptly moved to Broadway in November of that year.
Kim's mom, Gladys Shane, was a secretary and her dad Dennis was a construction engineer. Now here's some interesting family history: In 2009, Kim was part of the BBC television show Who Do You Think You Are. If at no other time, this allowed fans and foes alike a rare look at some ghosts in her family closet. Some of the ghosts were ones that neither she nor her immediate family fully knew about. For example, Kim's grandfather George Baugh had abandoned the family when Kim's mom was only 8. It was discovered that he was bigamously married to another women, and had four more children! He eventually immigrated to Australia, and died there in 1974. Kim's mother and two aunts hadn't known this history, or even seen a good photograph of George until that episode. (Also aired on NBC in 2011)
Speaking of moving around, Kim herself currently holds dual Canadian and British citizenship, and though currently living in a couple of posh New York City area homes, is not an American citizen. As recently as late 2011, during an interview with Canadian radio show "Q", she quashed the rumour that she had taken on U.S. citizenship in 2008.
She's been married three times. She and her last husband, designer Mark Levinson (divorced in 2004) co-wrote Satisfaction: The Art of the Female Orgasm. Did you know that? We didn't! She's also been linked to former Canadian Prime Minister Pierre Trudeau, actor Daniel Benzali, French intellectual Bernard-Henri Lévy.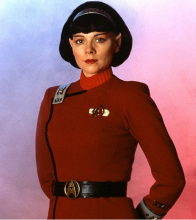 In addition to Rosebud, Star Trek VI, and a couple of years' worth of attention-getting scenes on Sex and the City, Kim's 35-year filmography is truly staggering. Among the television series or roles she's held are Quincy, M.E., Columbo, Vega$, Charlie's Angels, The Outer Limits (new series), and a recurring role on Ice Princess (a role for which she won and/or was nominated for several awards). Her movie career has also been extensive, having appeared in Deadly Harvest, Porky's (yeah, we know!), The Bonfire of the Vanities, Unforgettable, Sex and the City: The Movie, Sex and the City 2, and recently, Any Human Heart (a television movie). Her work has netted her not only some fame and notoriety, but also a Golden Globe Award, a Gemini Award, and several others. She also got her star on Canada's Walk of Fame in September of 2009.
We'll end our piece on Kim the way we started it: in addition to Canadians William Shatner and James Doohan, already onboard the Enterprise in Star Trek VI, and Canadian Christopher Plummer, onboard the Klingon enemy ship, Cattrall's Valeris added one more piece of Canadiana to make the plot richer, and certainly, compared to Chang or anyone else, a lot more visually pleasing.