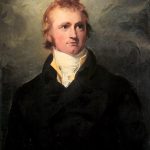 Sir Alexander Mackenzie, born a Scot, was knighted by King George III in 1802 for his achievements in exploration (founding of the Northwest Passage).
Mackenzie was married twice, though it's difficult to find detail concerning his first wife, thought to be a Metis.
He was 48 when he married his second wife, Geddes, who was but a girl of 14 years at the time.
After emigrating from Scotland to America in 1774, he soon found a new home in Montreal.
Mackenzie was sent to Canada for schooling on the heels of the American Revolution.
Mackenzie got involved in the family business of fur trading, when he was around 19 years old.
Alexander Mackenzie the explorer, became the man and legend, after being promised a partnership in the North West Company if he would travel west to take over Fort Chipewyan (in what's now northeastern Alberta).
At the relatively young age of 28, Mackenzie was the manager of the North West Company's richest post, a double shareholder, an accomplished traveler, and he already had a world-record exploring voyage behind him.
Jefferson read Mackenzie's book, Voyages from Montreal, and promptly sent Lewis and Clark out in the early 1800s to find an alternate trade route to the Pacific.
The Emperor Napoleon studied Mackenzie's account very closely as well, and at one point had considered invading Canada!