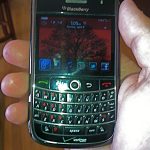 As of late 2011, there were approximately 70 million BlackBerry users worldwide. In Canada, one-third of Smartphone users have chosen BlackBerry.
RIM, a Waterloo, Ontario based company, was founded in 1984.
The first BlackBerry hit the market in 1999 (in Germany). Dubbed the "850", it acted as a two-way pager.
In the third quarter of 2011 alone, RIM lost almost $500 million dollars.
RIMs biggest competition is with Android-based phones (like the Samsung Galaxy).
In February, 2012, after finally satisfying the Indian government that there would be methods for "lawful interception of its messenger services", RIM set up servers in Mumbai. This had apparently been the final hurdle the company had to overcome in order to do business in India.
Besides India, RIM has operations in 175 countries.
The only European country where BlackBerry has not been introduced is in Finland. This is about to be changed in April, 2012, as RIM makes its debut there.
According to a recent article in Forbes magazine, BlackBerry support and use is still strong in corporate offices in North America (particularly in the United States).