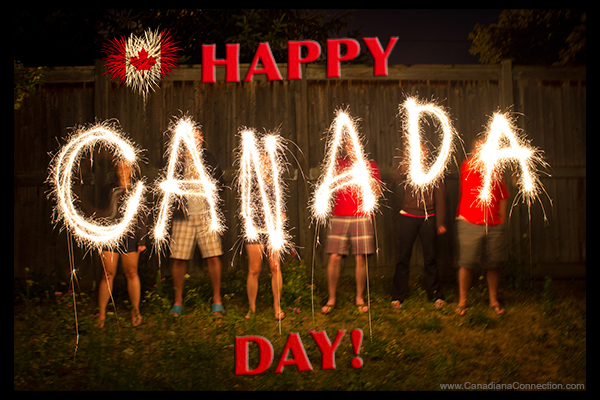 Ottawa, Canada's capital and seat of government, is inextricably connected to Canada Day. What's your connection to it? Would it help if we provided you with a little history and few extra facts? Thought so!
What we know as "Canada Day" was originally called Dominion Day. On July 1, 1867, because of the British North Americas Act, Canada became a self-governing Dominion, and a federation of four original provinces: Nova Scotia, New Brunswick, Quebec, and Ontario. For over a hundred years it was Dominion Day that Canadians celebrated. The event was the confederation of our country, and the four provinces were originally former British colonies. The year after confederation, Canada's Governor General proclaimed that Canadians should celebrate its anniversary. While Dominion Day became a statutory holiday, no official celebrations were held until its 50th and 60th anniversaries, in 1917 and 1927 respectively. After the second Great War, Dominion Day became celebrated with greater frequency and interest. Following our centenary, in 1967, the name "Canada Day" was in vogue; however, it wasn't officially adopted until July 1, 1983. We're a bilingual country, so the reader may be interested to know that Canada Day, en français, is known as la Fête du Canada.
If July 1st falls on a Sunday, Canada Day is observed on Monday, July 2nd. Otherwise, it is celebrated on the day of the week in which it falls. All provincial governments observe this federal holiday, as do most organizations, businesses, and stores (except for some stores in areas designated as tourist zones, like Toronto's Eaton Centre). If you're in Ontario—and this probably holds true for other provinces—you you can't purchase alcohol on Canada Day (though the outlets would be open on a July 1st that's a Sunday). Everywhere in the country, there's no mail delivery, and schools are closed. Depending on where you live, public transport may operate on a 'holiday schedule', though in many areas, special service may be put in place for large events. In many cases there are street closures to accommodate celebrations.
In Ottawa, Canada Day celebrations are massive! Most celebrations take on a festive, patriotic tone and July 1st is replete with citizenship ceremonies for new Canadians. Hundreds of thousands of people put a visit to Ottawa and Parliament Hill on their agenda, or to other attractions and places of interest like Major's Hill or Jacques-Cartier Park. After all, the Nation's Capital and surrounding area is the headquarters for Canada's birthday celebration! Celebrations are not limited to Ottawa proper, as folks in Kanata, Barrhaven, Orleans, and several other communities get in on the festivities.
Everywhere Canada Day is celebrated there are pancake breakfasts, parades, concerts, and usually grand firework displays in many centres, small and large. Canada's distinctive red and white flag is proudly displayed, and some people even paint their faces red and white.
In Quebec, Canada Day is sometimes dubbed "Moving Day". Many home leases in Quebec begin on July 1 and last for a year. So that means numerous Quebec families spend Canada Day moving! In Newfoundland and Labrador, July 1st is also Memorial Day. Memorial Day in this case commemorates the large loss of life that occurred in the Newfoundland Regiment on the first day of the Battle of the Somme, in World War I. Fittingly, flags are flown at half-mast, memorial services are held, and the mood is sombre and respectful.
Next are some things that, unless you live in the communities involved, you may not have known about Canada Day. To all of our readers, but especially expatriates, we hope you enjoy the following!
Canadians living outside Canada organize Canada Day activities in their local area on or near the date of the holiday. Here's an example: since 2006, Canada Day celebrations have been held at Trafalgar Square—the location of Canada House—in London, England. They can't always be held on the day, as Trafalgar Square is in demand as a popular tourist spot. These events are organized by Canadians living in the United Kingdom, along with the involvement of the Canadian High Commission. All sorts of events take place, including Canadian performers, demonstrations of street hockey, and much more.
In Hong Kong, "Canada D'eh" is celebrated on June 30 at Lan Kwai Fong. Attendance has been steadily growing, but an estimate from a few years ago put it at over 12,000. Other places in the world where Canada Day has been or is celebrated include Afghanistan, and Mexico. But perhaps not surprisingly, some of the greatest joint celebrations are held in Windsor, Ontario and Detroit, Michigan.
Detroit and Windsor are across the river from one another, and since the 1950s, have jointly celebrated Canada Day and the United States' Independence Day with the International Freedom Festival. This festival has a huge fireworks display over the Detroit River. Attendance every year is in the hundreds of thousands. Two other similarly 'paired' cities, Fort Erie, Ontario and Buffalo, New York hold the annual Friendship Festival. The spirit of this and other festivals is large spread as neighbouring towns and villages throughout Maine, New Brunswick, and also Quebec come together to celebrate both anniversaries together.
Whatever you plan to do or have done on Canada Day, we hope your celebrations are safe, and have in them a kernel of pride and friendship toward your neighbours.