Stories about Sasquatch in Canada, sometimes called Bigfoot (mostly an American term) or Yeti, in terms of the Himalayan creature, just won't go away. They appear in publications both scientific and starry-eyed. For example, "one of the Web's leading sources for celebrity gossip, news and information", The Hollywood Gossip, posted two videos in the summer of 2013 that "allegedly capture the hairy creature in action." I've had a look at both, and offer the following link to one of them for the curious: www.thehollywoodgossip.com/videos/sasquatch-sighting-in-canada/.  One thing is clear; stories about an ape-like living thing, in Canada and elsewhere, continue.
According to Merriam-Webster, the first use of the term Sasquatch was in 1929. To that term they offer the following definition: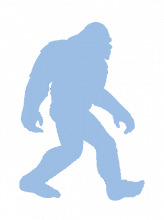 "a hairy creature like a human being reported to exist in the northwestern United States and western Canada and said to be a primate between 6 and 15 feet (1.8 and 4.6 meters) tall —called also bigfoot"
The term "Bigfoot" came along approximately 30 years after that.
The creature, real or imagined or mistaken (as many hold), is thought to roam the Pacific Northwest. It's elusive, and many alleged videos of Bigfoot are grainy or out of focus. Some are simply unbelievable. In the early 1920s, author J.W. Burns compiled a series on local legends for a Canadian newspaper and it was he who coined the term "Sasquatch". Eventually, legends and stories grew and spread into the United States. In 1951, mountaineer Eric Earle Shipton and Dr. Michael Ward, in exploring the Barun gorge, photographed what they claimed to be footprints of the Himalayan Yeti. The photographs showed an ice axe to indicate proportion and size. They caused quite a sensation. In 1958, more footprints were found; this time by a bulldozer operator in California. Those prints were cast in plaster, and the story was picked up by the Humboldt Times, and later, by the Associated Press. One of the most convincing—or outrageous—video clips to emerge is called the Patterson-Gimlin film. It was shot in Bluff Creek, California in 1967 by Roger Patterson and Robert Gimlin. (The link that appears earlier in this article is to two videos shot in Canada in 2013.) Professor Bryan Sykes, an Oxford University geneticist, compared some hair samples and found a genetic match between the Yeti, and "a large bear that lived more than 40,000 years ago." DNA tests were performed to determine the correlations.
As you can see, whether called Sasquatch, Bigfoot, or Yeti, similar stories and some 'evidence' exists that a strange and mysterious creature does roam the land. As this article is about Canadian connections, the rest of it will deal with Sasquatch sightings and legends in Canada.
Let's start with Banff National Park in Alberta. It's no stranger to sightings of Sasquatch. One recent example was some video shot in 2010 from a boat cruising Lake Minnewanka. It shows what looks like a creature creeping along the shoreline. There have been so many sightings in Banff that Parks Canada released a fake video of a "Sasquatch" on April Fool's day in 2013! Staying in Alberta for the moment, there was a sighting in the summer of 2013 in the Bow Valley area. That sighting, reported by a UFO-oriented website, tries to make the connection between Bigfoot and aliens. Believe it, or not. There have been alleged sightings in an area behind China Nose Mountain, in Houston, British Columbia. For interested readers, check out Brian Vike's website, The Vike Factor. Hikers, on a trail in Mission, B.C., captured a few seconds of video reportedly Bigfoot. It's an interesting watch, and as you'll see if you click through, this report came in from Australia.
The Bigfoot Field Researchers Organization has amassed and organized thousands of sightings, both from the U.S. and Canada. Based on and sifting through that database, PhD candidate Josh Stevens catalogued over 3,000 sightings between 1921 and 2013. Of interest is the following quote from Mr. Stevens, near the end of his article, where he states though he isn't convinced: "But if respectable folks like Survivorman Les Stroud and primatologist Jane Goodall believe there's something more to the myth, I think it's at least worth putting on the map." Most of the data he compiled and mapped show sightings are heaviest in sparsely populated areas in the Pacific Northwest. This may interpreted in two different ways. The sceptic may claim that figures, because the lack of people and remoteness of the area dismiss the validity of the reports. It could also be interpreted in a positive way, in that the creature continues to be as elusive as ever (i.e., not wanting to be seen).
For readers who want to continue to explore this subject, links and articles, pictures and videos exist in abundance. Perhaps you'll want to take a look at the evidence and accounts amassed by M.K. Davis, a well-known Bigfoot researcher. If so, you can find him here. By the way, there have been sightings in central and eastern Canada. There's a stunning photograph taken by Melissa Hovey, from Temagami, Ontario. It was later published and copyrighted by the American Bigfoot Society. It's the photo that adorns the top of this article.