Winter in Canada can be … challenging. Many of us like the outdoors, but come on; sometimes enough is enough in terms of harsh, cold weather. For many, Valentine's Day helps warm the heart. Canadians have all sorts of ways they celebrate this special day of the heart, and they do it in all sorts of unique towns and cities.
How does this sound: you and your loved one (or love interest) are sitting in front of roaring fire, sipping on the beverage of your choice, looking out at the snow. Would it surprise you to know this perfectly describes Whistler, BC?  Whistler was listed by Reader's Digest Canada as one of the country's 10 Most Romantic Places. (See Canadiana Connection's 10 Most Romantic Places for a different viewpoint) Travel east, to Ontario's wine region, and before you know it you are in Niagara-on-the-Lake, Ontario. This cutest of towns is well-known for romantic getaways, and if you and your special Valentine need a distraction, well, there are lots of colourful boutiques and wonderful restaurants.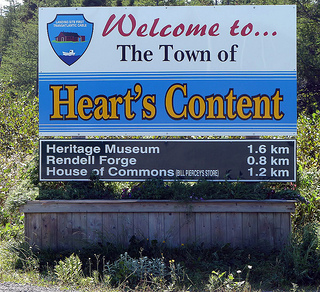 Are you warming up yet? Keep heading east; all the way east. Now you're in Heart's Content, Newfoundland. Cupid's there too! Soon, you'll ignore the howling winds and snow, as you take in the beauty right beside you, and the fantastic beauty all around you.
Canadians are romantic types. It's true. In that, we're much like our good friends in the United States in how we celebrate Valentine's Day every year. While businesses are open as usual—okay, maybe restaurants and hotels are a little busier than usual—if you have that special someone, or are working on one, these are the kinds of gifts we indulge them in:
Chocolates
Flowers
Lingerie (women's and men's)
Did you know: people seize upon the day to propose marriage? It's true. While Canadians and Americans do many of the same things on Valentine's Day (Americans consume 35 million chocolate or candy hearts, for example), there have been surveys done on Canadian habits and opinions for this special day. Here are three statistics (our thanks to What's Fab magazine for these) you may find interesting about Canadian's views on Valentine's Day:
30% of Canadians believe an ideal date for Valentine's Day is an intimate dinner
51% of Canadians would love to find a bottle of good champagne in their hotel room
81% of Canadian men, and 93% of Canadian women, give Valentine's Day gifts because they want to; not because they feel they have to
There are many more statistics that point to our habits, what we consume, and what we do on Valentine's Day. But we all know the meaning isn't in the numbers. It's in the heart. On that happy note, we wish you and yours a wonderful, romantic, and warm Valentine's Day.
Photo Credit: 2 Hearts, Heart's Content