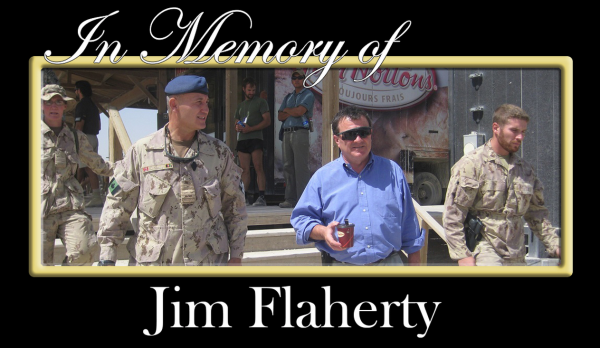 In a related Canadiana Connection article – Canadian Federal Budget – we discussed how every February or March the Government of Canada presents its new Federal budget. We began that article with an important nod to Jim Flaherty, our former Federal Finance Minister. We felt Canadians would miss Flaherty's expert guidance of the country's finances; little did we know at the time that less than a month later, this great Canadian would be laid to rest. Flaherty died of a massive heart attack on April 10, 2014 in Ottawa, Ontario.
James Michael 'Jim' Flaherty, born December 30, 1949 in Lachine, Quebec was son of Mary (formerly Harquail) and Edwin Benedict Flaherty. His mother, originally from a prosperous family, and father an entrepreneur and chemist, were from New Brunswick. Jim was one of eight siblings. Higher education was completed at Princeton University (Montreal) –on a hockey scholarship. He received a BA in sociology from Princeton, graduating cum laude. Later, he received Bachelor of Laws from York University's Osgoode Hall Law School.
Flaherty married his wife Christine Elliott in 1986, and they had three triplet sons in 1991: John, Galen, and Quinn. Christine was and continues to be active in politics herself. She's currently the Progressive Conservative Member of Provincial Parliament for Oshawa–Whitby, and Deputy Leader of the Opposition. Oshawa is a small city in Ontario, east of Toronto.
Our former Finance Minister didn't enter politics until 1995, following 20 years of practicing law for Gilbert Wright and Flaherty, and later, Flaherty Dow Elliot & McCarthy LLP, a firm that specializes in motor vehicle accident and personal injury litigation.
In 1995, he was elected to Provincial Parliament as a Member for Whitby-Ajax, as well as being a member of Ontario's Progressive Conservative Party. Twice, he ran for but lost leadership races for the PCs. In 2001 however, he was named Minister of Finance for Ontario, and served in that role for a year. Aiming his sights on federal politics, Flaherty, as a member of the Conservative Party of Canada, ran against Liberal Judi Longfield in January 2006. He narrowly beat the popular incumbent to win the riding of Whitby-Oshawa. He was re-elected twice: in 2008 and again in 2011.
According to W. Gifford-Jones of Victoria, BCs writing for The Times Colonist, Flaherty's death may have been preventable. In an article two weeks after his death, Gifford-Jones, a physician practicing medicine for 64 years, stated that "high doses of vitamin C and lysine can reduce the epidemic of heart attack." This was not a part of Flaherty's regime. He had a rare skin condition called Bullous pemphigoid, and it was largely being treated by steroids. And one of the problems with steroids? It can cause the kind of complications that create massive heart failure.
In the end, we of course won't know everything that led to Flaherty's death, following so closely as it did his stepping down as Finance Minister. We do know, however, that his death seemed premature and was met with shock by all close to him, by the Prime Minister, and by most of us every day Canadians who benefitted so much from his tireless efforts.