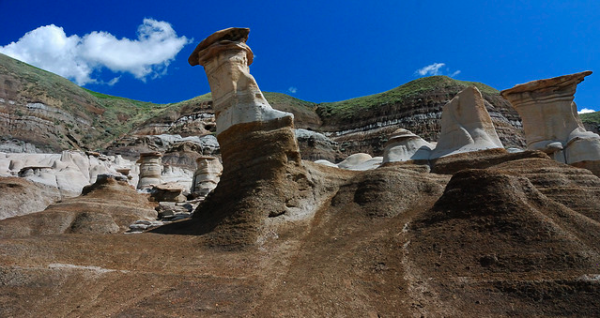 If you appreciate varied landscape then Alberta is the province to visit!
Alberta's prairies stretch from Saskatchewan into the foothills of the Rocky Mountains and up to it's highest elevation at 3747m (12,294 feet) near the British Columbia border. The Badlands, in the prairie region is a 'have to' tour stop for dinosaur enthusiasts. The dry arid conditions have preserved a multitude of fossils, many on display at the Royal Tyrell Museum in Drumheller. Another must-see landscape is the Columbia Icefield, where it looks like winter 365 days a year!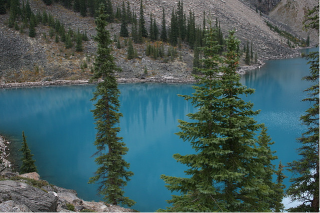 The most popular tourist destinations are internationally renowned Banff and Jasper National Parks; their natural beauty is unsurpassed. Calgary and Edmonton provide lots of culture and action for city-lovers.
Alberta borders lay next to Saskatchewan on the east, the Northwest Territories in the north, British Columbia on the west and on the south by Montana.
As with the rest of Canada, Alberta was originally part of the Hudson's Bay Company and played an important role in the fur trading business. The first European to touch Alberta soil was employee Anthony Henday.
The city of Edmonton began as a fur trading fort while Calgary began as a log fort belonging to the Northwest Mounted Police.
Alberta was transferred to Canada by the Hudson Bay Company in 1870 and in 1882 was named the District of Alberta for Princess Louise Caroline Alberta, daughter of Queen Victoria. Princess Louise was married to the Marquis of Lorne who served as Canada's Governor General from 1878 to 1883.
The following is a verse dedicated to the Princess by her husband, the Marquis:
"In token for the love which thou has Shown
For this wild land of freedom, I have Named
A Province vast, and for its beauty Famed,
By thy dear name to be hereafter Known.
Alberta shall it be!"
Not many people were coming west to settle in Alberta, so in the early 1890's the government advertised free acres to promote settlers to establish homesteads. The railway had already come to Alberta a few years prior. Growth followed. Edmonton became busy in 1898 as a supply base for those searching for gold in the Klondike.
Alberta officially joined the Confederation of Canada in 1905.
Oil was first discovered in 1914 and has continued to be an important industry for the economy.
Photo Credits:
Hoodoo Recreation Area Near Drumheller
Moraine Lake