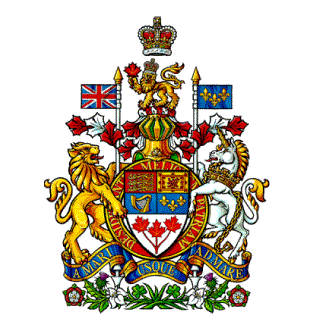 Initially the purpose of the arms of Canada was to identify, a nameplate of sorts. Many years ago, literacy was limited and people were more likely to identify with images rather than words. The act of designing these symbols is called Heraldry. All countries used Heraldry and it became an art, often the arms were the inspiration for the flag. Currently you will find this symbol as a notice of possession on items owned by the government of Canada.
On the arms of Canada, each item on it represents something. The shield in the center includes the royal symbols from England, France, Scotland and Ireland. The three maple leaves on the bottom depict the origins of Canadians.
In 1994, a ribbon with the words "Desiderantes Meliorem Patriam" was added to the center of the arms. It is the motto of the Order of Canada which means, "They desire a better country".
Above the shield is a royal helmet, the Canadian colours of red and white flow around it.
The lion above the helmet is a crest that depicts the sovereignty of Canada. The lion is a symbol of courage and valour.
The flags held my the lion and unicorn at the side of the arms, depict Canada's founding nations, France and England.
"He shall have dominion from sea to sea and from the river unto the ends of the earth (Psalm 72:8)".
This passage is the basis for Canada's motto, "A Mari usque ad Mare" , which translates to "From sea to sea."
At the bottom of the arms there are four flowers depicted that represent Canadian monarchy, the English rose, Scottish thistle, Irish shamrock and the French fleur-de-Lis.
The Imperial Crown is placed on the top of the arms of Canada to inform that a monarch is Canada's Head of State.