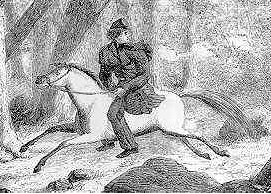 (Featured August 2004) Initially written for a school project, we are proud to feature this article, written by 10 year old, Guest Writer, Brett.
Canadians in the Civil War
Canada and the United States share a long border and also many historical events. The American Civil War affected Canada too. Some of the ways the war had an effect on Canada & Canadians is seen in the number of people that escaped to Canada to avoid slavery and to avoid the draft. Men who left the USA to avoid fighting in the Civil War were called Skedaddlers.
t is said that 64000 Canadians enlisted in the Union Army and several thousand served with the Confederacy. Many of these Canadians had moved to live in the United States prior to the Civil War. Twenty-nine Canadians were awarded the Congressional Medal of Honor for Valor.
Many people went to the United States to help as well. Canadian surgeons went and helped with medical service along with people from churches that helped add support to the soldiers. Canadian born Anderson Abbot was one of eight Black doctors serving in the Union Army and Dr. Theoren Woolverton of Ontario served in the United States Navy and obtained the rank of Lieutenant Commander.
One such interesting person was Sarah Emma Edmonds.
Born in Nova Scotia, her childhood was very difficult for her. Her father wanted her to be a boy. So after being treated badly day after day she ran away to the U.S.A.
Emma was living in Flint, Michigan when the first call for Union enlistments went out. She wanted to go so she cropped her hair, got a man's suit of clothing, and changed her name to Frank Thompson.
As Frank Thompson she became a male nurse. She learned as much as she could about weapons, war tactics & geography and applied to be a spy. On her first mission she became a Black man by dying her skin with silver nitrate and worked in the kitchen for Confederate soldiers. She provided helpful information to the Union. Two months later she went back to the Confederate side as an Irish woman selling wares. When she came back to the north she had an arm injury. Many such trips back across enemy lines provided important information.
After the war Emma wrote a book called Nurse and Spy in the Union Army. She gave all the profits to the US War Relief Fund.
She moved back to Canada & married Linus Seeyle. They eventually returned to live in Cleveland Ohio.
They had 3 sons and moved to Texas where she died in 1889. She is buried in the military section of Washington Cemetery in Houston, Texas and is the only female member of the organization called The Grand Army of the Republic (GAR).