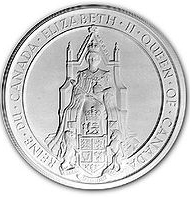 The Great Seal of Canada is not a cute furry ocean dwelling animal, it is a symbol used on all state documents for authority and authenticity. Documents such as proclamations, commissions of cabinet ministers, senators, judges and senior government officials.
The Great Seal of Canada provides the formal sanction of the Crown to a document.
"Upon proclamation of the Governor General, under the Great Seal of Canada…"
It even has its own Act, the Seals Act, to make provision for the sealing of royal instruments.
The current seal has been in circulation since the coronation of Queen Elizabeth II. A new seal will be struck by the Royal Canadian Mint when the heir to the throne succeeds her.
The current seal is complete with an image of Queen Elizabeth in her robes, holding the orb and scepter, while seated on the coronation chair.