(Featured 2001)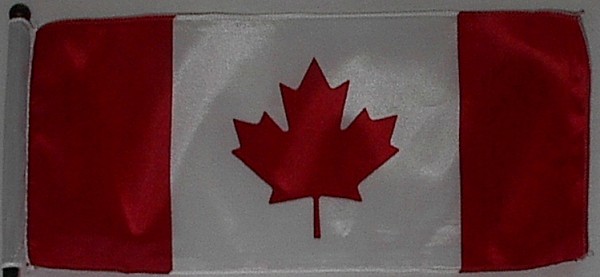 Canada's longest battle was waged in parliament over the introduction of a uniquely Canadian symbol…..the flag.
That is not to assume that a distinctly Canadian flag wasn't considered before the maple leaf version was adopted…..the current design was actually discussed as early as 1919.
Up until, 1945, the only "official" flag that Canada flew was the Union Jack. The Red Ensign was flown for Canada, at sea and at posts throughout the world, and in 1945 (with the addition of Royal Arms) it was established as the "temporary" Canadian flag, until a replacement was found. They did not realize it would be another 20 years before that would happen.
When William Lyon Mackenzie King suggested that Canada consider researching and adopting its own flag, he fell under much criticism. In short, many people felt they had fought in WWI under a waving Union Jack and that it would be disrespectful to replace it.
The flag issue was dropped until WWII when King insisted Canadian Forces be acknowledged for their part in the war rather than as a part of Britain's effort. The Canadian Army, not having a distinctive flag for themselves started to use the Red Ensign with the shield of the Coat of Arms of Canada in January 1944. The Royal Canadian Air Force followed soon after.
King decided to try to bring the issue of a distinctly Canadian flag to the forefront of debate in parliament. The response was the same as the first time. King was burned and his popularity in office was damaged.
Again the issue went unresolved.
Lester B. Pearson was the next Prime Minister to start flag waving, and proposed his own design in 1964.
Diefenbaker heartily opposed him. Subsequently, a committee was established to determine the best design. It was September 1964 and they were given 6 weeks to conclude. By a process of elimination the current Canadian flag came out on top. It was officially inaugurated on February 15, 1965.
Pearson faced the same intensity of battle and the same criticisms as King had faced years previously. The battle was just as ferocious and political, but at the end Canada had a new National Flag.