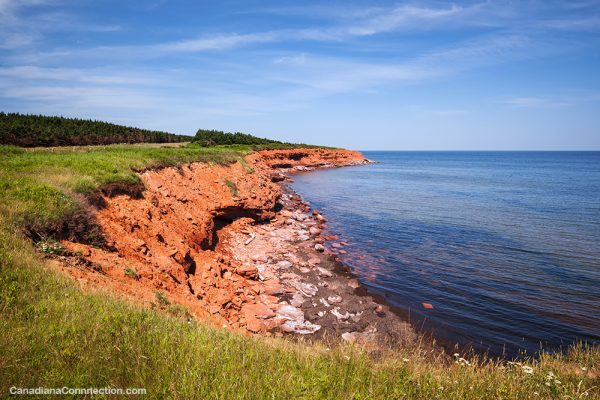 P.E.I. may be the smallest province in Canada, but it has a lot to offer!
Prince Edward IslandBeautiful red soil and beaches with green fields that look like rich tapestry from the air, make it a beautiful retreat. The province is also steeped in history, beginning with the first residents, the Micmac Indians. They thought the island appeared as though it was resting on the waves and named it Epekwitk. When the Europeans arrived in 1534, led by Jacques Cartier, they changed the name pronunciation to Abegweit which can be interpreted to mean "lying down flat".
When the French arrived they called P.E.I., Ile Saint-Jean, the British translated the name to English and referred to it as St. John's Island.
It adopted it's current name in 1799, in honour of Edward, Duke of Kent and father of Queen Victoria.
On September 1, 1864, The Charlottetown Conference was held in P.E.I., to discuss forming a Canadian union. The island has since been called the "Cradle of Confederation", and although this is a notable distinction, P.E.I. still waited until 1873 to join the Dominion of Canada. (Canada was formed in 1867) Prince Edward Island
Prince Edward Island is known for it's potatoes, but it offers many other wonderful products such as lobsters and Malpeque Oysters from Malpeque Bay. Tourism is also another important industry. Lucy Maude Montgomery helped to put P.E.I on the world map with the book, "Anne of Green Gables". A visit to the island would not be complete without a tour of Green Gables House, or to a theatre to see the play.
Up until 1997, the only way to reach the island was by sea or air. Ferries have run back and forth for years, but now the world's longest bridge over ice-covered waters is another option. It is almost 13 km (8 Miles) long and is 20 stories above the sea.
Island Hymn

Fair Island of the sea,
We raise our song to thee,
The bright and blest;
Loyally now we stand
As brothers, hand in hand,
And sing God save the land
We love the best.
Upon our princely Isle
May kindest fortune smile
In coming years;
Peace and prosperity
In all her borders be,
From every evil free,
And weakling fears.
Prince Edward Isle, to thee
Our hearts shall faithful be
Where'er we dwell;
Forever may we stand
As brothers, hand in hand,
And sing God save the land
We love so well.
The Words by Lucy Maud Montgomery 1908