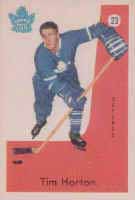 Tim Horton is one of the great players that came out of the Maple Leaf's golden era. While he was associated with the leafs they won 4 Stanley Cups he played 24 seasons in the NHL, 18 of them as Toronto's defenceman. He was such a strong player, many credit him with inventing the slap shot.
In 1955, his leg was broken after a severe check by a Chicago player. Toronto took him back but at a reduced salary. He was married with four children and the income was important to him. Hockey players in the 50's were not entitled to the pay structures that modern players receive.
Horton was approached by his friend, Jim Charade to open a string of hamburger stands. When they weren't successful, their thoughts turned to donuts and coffee and the Tim Hortons empire was born.
Horton ran an ad in the newspaper looking for help with store operations. Ron Joyce answered it and invested $10,000 in the store. He developed the plan of action to expand the store into a chain aiming at 10 as his first goal.
Horton was killed in 1974 when he lost control of his vehicle on the Queen Elizabeth Way (QEW) near St Catherines. He had just played a game in Toronto and was heading back home to Buffalo, after consuming alcohol and painkillers.
The donut chain Tim Hortons continues to bear his name although none of the wealth belongs to the Horton family. Horton's wife sold their share for 1 million dollars a year after his death.
Ron Joyce was sole owner until he merged the Tim Hortons company with his Fort Lauderdale neighbour, Dave Thomas of Wendy's.