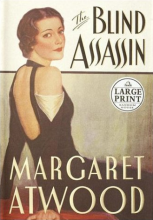 "I was born on November 18, 1939, in the Ottawa General Hospital, two and a half months after the beginning of the Second World War. Being born at the beginning of the war gave me a substratum of anxiety and dread to draw on, which is very useful to a poet. It also meant that I was malnourished. This is why I am short. If it hadn't been for food rationing, I would have been six feet tall."
Atwood is 5'3″.
The above is an excerpt of her autobiography presented in Wales in 1995.
Although always an avid reader she states that she did not become a poet until 16 and that it was quite by coincidence while walking home from school.
Her reading was perpetuated partially by her surroundings. In the warm months of her youth, her father worked as a forest entomologist doing research in remote north-west Quebec.
The colder months were spent in various cities.
In university she found other like-minded writers and forged ahead submitting poetry to various publishers. Every year for four years, her annual poetry compilation was rejected.
"For a while there, you were made to feel that, if a poet and female, you could not really be serious about it unless you'd made at least one suicide attempt. So I felt I was running out of time."
After two years at Harvard she took a job in Vancouver that allowed her to spend her evenings writing. After a year she had The Circle Game completed.
"This first book of poems was called The Circle Game; I designed the cover myself, using stick-on dots– we were very cost-effective in those days — and to everyone's surprise, especially mine, it won a prize called The Governor General's Award, which in Canada was the big one to win."
Her first novel, The Edible Woman, was published in 1969. She now has published works spanning the categories of fiction, non-fiction, children's literature, short fiction and poetry. Her most recent novel of the more than 25 she has written, at the time of this writing, is The Blind Assassin.