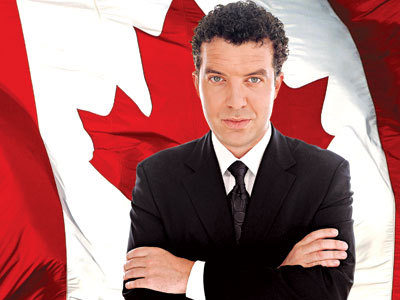 In the city of St. John's, Newfoundland, on a blustery October 17, 1969, a tiny little imp known as Richard Vincent "Rick" Mercer was born.
Rick was raised in Middle Cove, Newfoundland (near St. John's). He's one of four kids. His dad was in the fisheries, and his mother was a nurse. While personal details about Mr. Mercer are hard to track down (and that's the way he likes it), we can tell you that he and his partner lived for a time in Halifax, and then moved to a quiet Toronto east end neighbourhood.
From high school on, Rick has been in the spotlight, and been mixing it up with the best of them.
He's won 20 Gemini Awards, the Governor General's Performing Arts Award, and has accumulated numerous other accolades over the years. He gained national attention in 1990 with his one man show Show Me the Button, I'll Push It, but later went on to haunt the normal, placid minds of Canadians as a regular on This Hour Has 22 Minutes. There are stories still floating around how he feuded for years with the co-creator of the show, Mary Walsh. These days, he is ever present with the Rick Mercer Report.
Rick has authored two books: Streeters (1998), and Rick Mercer Report: The Book (2007). In 2008, he repurposed and republished his second book under the title Rick Mercer Report: The Paperback Book. It's consistently been on the Globe and Mail's top ten bestseller list.
Besides his banter with politicians (we can almost hear the current Prime Minister, Stephen Harper, saying "We are not amused!"), Rick has a daredevil streak in him. He calls it "host in peril". He's done some really crazy stuff in his time. For example, in September of 2011, he and his guest Jann Arden did the CN Tower Edge Walk. Poised 1,200 feet above the ground, they walked the outside perimeter of the CN Tower.

Video not visible? Click here.
A number of honourary degrees have been bestowed on Rick, including those from Laurentian University in Sudbury, Memorial University of Newfoundland in St. John's, and McMaster University in Hamilton.
Try to catch Rick at his best sometime, by watching the Rick Mercer Report. Follow him on twitter.
Photo Credit David Van Dyke/Metro Canada