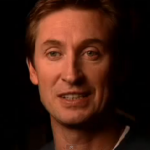 Wayne Douglas Gretzky was born in Brantford, Ontario, Canada on January 26, 1961.
When only six years old, Wayne began to practice his moves and shots in a backyard rink built by his father, Walter. Wayne credits his dad with teaching him everything he knew about hockey.
As a Pee Wee player in Brantford (ages 11-12), Wayne had a season where he accumulated a staggering 378 goals!
His family moved to Toronto when Wayne was only 14 years old.
Gretzky adopted the infamous # 99 on his sweater when around the time he played for the OHA. (That sweater, like The Great One himself, was retired in 1999.) He was #9 prior to that.
In 1979, Wayne signed on with the Edmonton Oilers, joining the likes of other fantastic players such as Mark Messier and Grant Fuhr. It was with Edmonton, in his only his second season, that Gretzky started pummeling hockey records in a fashion unmatched even today. The first of seven straight scoring titles began in that season, including one that smashed a record set by the (some would say) equally great Bobby Orr years before.
Mr. Gretzky is credited with popularizing hockey in California, and that followed a highly contentious trade that sent him to the L.A. Kings in 1988.
Took the Kings to the Stanley Cup playoffs in 1993 for their first time, though the Kings didn't take the cup that season.
In addition to the OHA, the Oilers, and the Kings, The Great One played for the St. Louis Blues, and finally, for the New York Islanders.
Represented Canada the 1997 Winter Games in Japan.
In 2000, he became part owner of the Phoenix Coyotes, and in 2005, he became their head coach.
As Executive Director for the Canadian national men's hockey team, he helped the team win Gold.
In the B.C. bid to hold the 2010 Winter Olympics, Wayne was instrumental in helping them succeed.
Holds forty regular-season records
Holds fifteen playoff records
Holds six All-Star records.
Endorsements include Pepsi Canada and McFarlane Toys.
Launched the Wayne Gretzky Estates Winery in 2007.
In 2008, Gretzky hosted the inaugural Wayne Gretzky Classic.