In 2005, the world lost an actor who made an indelible imprint on fans worldwide: the original and lasting character of Montgomery Scott—Scotty, as most called the character—died with James Montgomery Doohan. While there is a Scotty in the reboot, no one can play him as Doohan did.
Doohan was born on March 3, 1920, in Vancouver, British Columbia. He was the youngest of four children of William and Sarah Doohan, who had emigrated from Northern Ireland. His dad was pharmacist, veterinarian, dentist, and rumoured inventor. His mother was a homemaker.
The family moved to Sarnia, Ontario when James was a kid. In fact, it was at Sarnia Collegiate Institute and Technical School where 'Jimmy' excelled at math and science. It's ironic, really, considering his long-lasting role as the engineer Scotty in the original television series, the first six Star Trek movies featuring the original crew, and the seventh movie that introduced the Next Generation (now, themselves, supplanted by an even newer generation). There have been legions of students who took up engineering because of Doohan's portrayal of Montgomery Scott, and in fact, the Milwaukee School of Engineering granted Doohan an honorary degree in engineering. Doohan also got his star on Hollywood's Walk of Fame; that was less than a year before he died (and it was his last public appearance). But, we're getting ahead of ourselves…
As the Second World War announced itself to a stunned and frightened world, Doohan joined the Royal Canadian Artillery and went off to England for his training. Unbelievably, his very first mission was the invasion of Normandy on D-Day! While crossing between command posts that first night, James was hit by six bullets fired by an obviously very nervous Canadian sentry soldier. Later on, he trained to be a pilot for the Royal Canadian Artillery office. Though never actually joining the RCAF, he made a name for himself as one of the "craziest pilots" out there.
One of the things that probably helped Doohan land the role of Scotty in Star Trek was his freakishly great ability for different accents. When he auditioned for Star Trek, Gene Roddenberry asked him which he'd like to use, and James told him he'd felt all the best engineers had "been Scottish."
In point of fact, however, long before Star Trek, Doohan was appearing in radio and television.
Right after World War Two, he took a drama class in Toronto, and was employed by the CBC (winning a scholarship in New York City). For years, he travelled between Toronto and New York, doing over 4,000 radio shows, and several hundred TV appearances. He later appeared in CBC dramas, television shows like The Twilight Zone, The Outer Limits, and Bonanza. As his appearances in the television drama, Peyton Place, were winding down, he began his amazing, influential journey with the original Star Trek television series in 1966, eventually appearing in 65 episodes. At first, Doohan's character appeared on a semi-regular basis, but then was 'promoted' in importance, and thereafter appeared in almost every episode. After all, Lt. Cmdr. Scott was the third-in-command on the Enterprise!
After the world of the Star Trek television series, Doohan kept busy with many different television and movie projects—this was before Star Trek: The Motion Picture (the first big screen treatment, which graced movie screens everywhere in 1979). But try as he might at first, he could not escape the typecasting caused by his affiliation with the Star Trek universe. And so he didn't. Between movie and TV gigs, James kept up his appearances at Star Trek conventions. He loved doing Star Trek conventions. (He did not love William Shatner, but perhaps we'll save that story for another time. In any case, not many of the actors who worked with Captain Kirk liked Shatner, the actor.) He injected his energy, passion, and of course full character of Scotty into his appearances. As has been mentioned, he inspired many students to take up engineering. One story, a particularly touching one, had him befriend a young fan at a convention. This fan was suicidal, but he convinced them to attend the next convention. And she went on to study in and become an Electrical Engineer.
Doohan the actor, was also Jimmy the husband, and father. He was married three times, and fathered several children. In fact, while married to his third wife, and at the ripe old age of 80, Doohan and his third wife Wende had daughter Sarah. That was their third child! One of his oldest sons, Christopher, appeared both in the first Star Trek movie, and in J. J. Abrams reboot in 2009.
In and out of the Star Trek world, James Doohan was known for his remarkable ideas, work with accents, and energy and enthusiasm. Along with two hundred others, Doohan eventually reached outer space: twice in fact. In 2007, some of his ashes were rocketed into space on the SpaceLoft XL rocket. After it returned to earth, approximately a year later, they were again sent into space on a Falcon 1 rocket. The rocket was intended be a low Earth orbit, but it failed two minutes after its launch. So while some of Doohan's ashes perhaps remain in space—how very appropriate, when you think about it, that Scotty actually did go where few had "gone before"—the rest are scattered over Puget Sound in Washington, where Doohan spent his later life.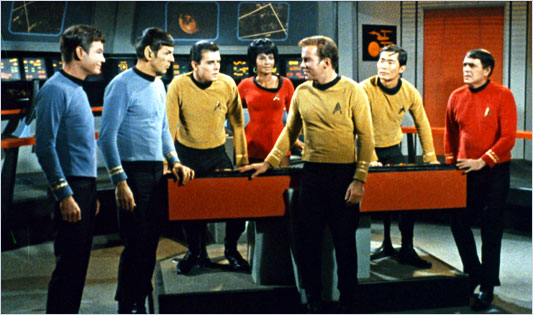 Images are courtesy of CBS Paramount.