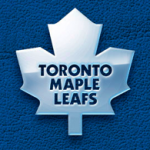 One of the original six hockey teams in the NHL.
Their first hockey club was referred to as the Arenas, but unofficially the team was known as the Blueshirts or the Torontos.
To appeal to a then-largely Irish population in the city, the team became the Toronto St. Pats in the early 1920's.
The team name Toronto Maple Leafs was born in 1927.
The Maple Leafs were named after the World War I fighting unit, the Maple Leaf Regiment.
Won their first Stanley Cup at the end of their very first season, but they do not count that cup in their total since the hockey team was known under a different name.
As the Toronto Maple Leafs, they have won the Cup eleven times.
The Leafs are the most valuable team in the NHL (somewhere around $500 million), followed by the New York Rangers, and Montreal Canadiens.
The Leafs sold out every game from 1946 through to when the Maple Leaf Gardens closed in 1999: over 50 years of sold-out crowds.
For two seasons after Sundin left, there was no Captain (the current Captain is Dion Phaneuf).
Mats Sundin remains the Leafs' scoring leader. In almost 1,000 career games, he scored 420 goals, and had 567 assists.
In 2008, there was a waiting list of approximately 2,500 names for season's tickets and has grown to approximately 4,000 since then. If you were to get on the list today, it's estimated you'd have a 20 year wait for your season's tickets!