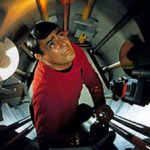 The beloved character we came to know and be inspired by, Montgomery Scott (Scotty) of Star Trek fame, was actually born James Montgomery Doohan.
James Doohan was 85 years old when he died in 2005, in Redmond, Washington.
Doohan had several children, the last by his third wife, when Doohan was 80 years old!
Long before his first appearance in the original Star Trek television series in 1966, 'Jimmy' Doohan had appeared in several thousand radio episodes, had hundreds of TV appearances, and appeared in scores of movies. For example, he appeared in an episode of Bewitched, in The Fugitive, and in The Man from U.N.C.L.E.
James Doohan's first combat mission, during World War Two, was the invasion of Normandy on D-Day.
Doohan's portrayal of Star Trek's Scotty inspired countless students to pursue their education in engineering.
In 2007, two years after Doohan's death, some of his ashes ended up in outer space.