The celebrity who recently handed country music star Brad Paisley the CMT Artist of the Year award, whose mug appears in Bioware's role playing game Mass Effect, and who turned 80 in 2011 — William Alan Shatner — has been acting, and a whole lot of other things, for over 60 years.
Shatner was born on March 22, 1931, in Côte Saint-Luc (an area of Montreal, Québec). He has two sisters, Joy & Farla, and is the son of Anne & Joseph. Joseph was a clothing manufacturer.
Most of us know Shatner best from his brawling, witty, sometimes cavalier role James T. Kirk of Star Trek fame, but in fact this Canadian actor has played many other roles. He's picked up a couple of Emmy Awards for dramatic parts in two television series but, we're getting ahead of ourselves…
Classically trained, it could be said his passion for performing was triggered while at Montreal's McGill University, where he dove into theatre. Even before graduating from McGill in 1952, Shatner appeared in a Canadian drama called The Butler's Night Off. The film was initially buried but rose from the archives thanks to a film society in Québec. He joined the newly formed Stratford Shakespeare Festival, one of the first Canadian actors to do so, in 1954.
On his way to gaining his first bit of fame, (the Theatre World Award for his part in The World of Suzie Wong in 1954), he married his first of four wives; Canadian actress Gloria Rand. He and Gloria had three daughters before their divorce in 1969. Between roughly 1958 and 1966, Shatner kept upping the anty, appearing in his first movie debut, The Brothers Karamazov, in 1958 and was among an all-star cast in the 1961 film, Judgment at Nuremberg.
Did you know all these things about "James Tiberius Kirk", or were you under the impression he was simply in charge of the Enterprise? Long before buckling up for a role that would define much of his life, Shatner appeared in episodes of The Twilight Zone, The Defenders, and even Dr. Kildare.
In 1966, Bill saddled up to the role that made him famous, Captain Kirk of the Star Trek universe. The show originally bombed and only lasted three seasons. Some had said it was too far ahead of its time; perhaps even too cerebral. But pressure from an immense fan base, and fate, were to change all that in time.
In 1968 he released his debut music album, The Transformed Man. Though some might say this one was best not remembered, it had an impact. In it, Shatner provided us with dramatic readings of William Shakespeare that were interspersed with the lyrics of pop songs (e.g., "Lucy in the Sky with Diamonds").
Star Trek conventions were a large deal for Shatner and his intrepid crew in the 1970s – and well beyond. While not at conventions, gaining more fame as Captain Kirk, and gaining a following not seen in the television series regular run, William was getting married again — Marcy Lafferty this time, in 1973. He also guest-starred or appeared regularly in shows like Hawaii Five-O, Ironside (hats off to another famous Canadian, Raymond Burr), and The Barbary Coast.
The year was 1979, and fresh on the heels of Star Wars success, Kirk signed onto the Enterprise crew again to head up Star Trek: The Motion Picture. While some of us feel that almost put an end to the Star Trek universe, audiences world-wide felt otherwise, and the film garnered an impressive $175 million; not bad for 'back in the day'. Multiple sequels were spawned, and of course, there was the recent reboot of the series by J. J. Abrams in 2009. We're approaching 40 years of Star Trek!
In the early 1980s Shatner appeared as T. J. Hooker, alongside actress Heather Locklear. In 1983, he got his star on the Hollywood Walk of Fame. And there were other non-Star Trek projects he was involved in. Speaking of Shatner in the Star Trek universe, how about we let the following quick points tell you what happened after the first major film:
In the mid-1980s, he made an important appearance on Saturday Night Live, where he told the fan base to "get a life".
Despite the above, in 1989 he provided the story, directed, and starred in Star Trek: The Final Frontier (the second-last Star Trek flick with the original cast).
In 1991 we saw the last of the movies with the original crew, in Star Trek 6: The Undiscovered Country. It didn't make as much money as some of the other movies, but garnered largely critical reviews (directed by the same man who directed The Wrath of Khan movie).
'Kirk' finally found his ending—literally, as the character was killed in a fight with another one of the movie series best villains—in the cross-over movie, Star Trek Generations. The film starred The Next Generation crew, and a few key players from the older universe. The year was 1992.
Shatner is not only a (sometimes overly) dramatic actor, though his presence has lived on between and since Star Trek in many guises. For example, for several years he narrated/hosted Rescue 911.
Bill Shatner is also, among many things, a writer. In the early 1990's, he wrote a series of sci-fi novels under the TekWar title. A couple of interesting developments came along in 1997. Shatner married his third wife, Nerine Kidd, and signed on as the pitch person for Priceline.com. (He decided on a very business-savvy move, taking stock options, and as of 2010, the payout is estimated to have been as much as $600 million).
Nerine died in a pool accident in 1999, and in 2001 he married his fourth and current wife, Elizabeth. Both husband and wife are heavily involved in the equestrian scene. If you'd like to learn more about his wife, visit her site, ElizabethShatner.com. Known for photography and horses, she combined the two and produced Art by Nature, which features "Unbridled Collection", a series of digitally painted photographs of horses she has encountered around the world.
Between 2004 and 2008, Mr. Shatner garnered more fame. He won an Emmy for Outstanding Guest Actor in The Practice, and then went onto winning an Emmy and Golden Globe for his role in Boston Legal.
William Shatner, the multi-talented and still very active and iconic man never stops. In 2011 he will have released his seventh musical album, Seeking Major Tom. In 2012, he's already signed on to play a drunk driver in the third season premier of Rookie Blue.
In closing, don't take our word on Shatner: take his! Trek over to his namesake website, WilliamShatner.com and get in on everything he, his company, and fan base have to offer.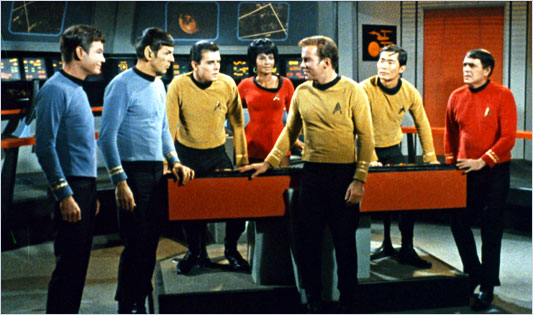 Image courtesy of CBS Paramount.