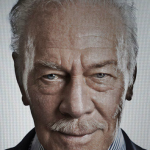 Despite taking training to become a classical pianist, Plummer took two different, but related directions and became famous on both stage and screen.
Plummer's maternal great-grandfather was Canadian Prime Minister Sir John Abbott.
Born in Toronto, Plummer soon moved to Quebec to be raised at the Abbott family home. Plummer is bilingual.
He so disliked the popularity and public's fascination with the film/musical role he's most known for—The Sound of Music—that he declined to attend the 40th Anniversary cast reunion. In 2010 he relented for the 45th Anniversary reunion, appearing with the remaining cast on The Oprah Winfrey Show.
Plummer was made an honorary Doctor of Fine Arts at New York's Juilliard School, plus he's received a handful of honourary doctorates from several Canadian universities including the University of Toronto and Ryerson University.
Christopher is a tad shy of being 6' tall.
In 1982, two famous voices got together on stage. Plummer played Iago to James Earl Jones' Othello on Broadway.
Plummer's daughter Amanda is an actress (and writer) of renown in her own right, having appeared in popular and successful films like Pulp Fiction, and My Life Without Me. She's won several Emmy's, and been nominated for a Golden Globe.
Image courtesy of Columbia Pictures