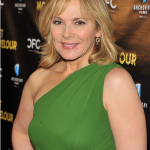 Despite winning several prestigious awards and nominations, Cattrall, along with Sex and the City 2 co-stars Sarah Jessica Parker, Cynthia Nixon and Kristen Davis won a Razzie award in 2011 for worst actress! Not a good thing, but it's something Kim apparently wasn't perturbed about. In very recent WHOtv.com story, she said she'd like to see yet another Sex and the City movie.
One of Kim's older sisters is a teacher in Courtenay, British Columbia.
Cattrall, who has been married three times (two divorces, and one annulment), blames "bad sex" for her failed marriages. The 2010 story made for some interesting headlines, as Kim said that good looks meant nothing when it came to sex.
Kim had been booked on ill-fated Pan Am Flight 103, the plane which crashed in Lockerbie, Scotland in December 1988. She cancelled at the last minute to complete some Christmas shopping.
In preparing for a film which received some critical acclaim, The Bonfire of the Vanities, the actress took two months to lose enough weight to get into size four clothing (she played a skinny society wife).
Cattrall speaks German fluently.
She has been a life-long Rudyard Kipling fan.