"To be or not to be." Such were Chief of Staff General Chang's last words onboard Kronos One, as a photon torpedo from the Enterprise zeroed in on his ship for the kill. That famous quote, and many other memorable lines, were spoken by Canadian actor Christopher Plummer in Star Trek VI: The Undiscovered Country. As such, they made Plummer an indelible part of Star Trek's rich history. But those words were uttered by Chang—err, we mean Plummer—way back in 2293 (1991 Earth time). He didn't start out like that…
This great, classically trained actor, was born Arthur Christopher Orme Plummer in Toronto, Canada on December 13, 1929. An only child, Plummer's mother was Isabella Mary and father, John Orme Plummer. John was secretary to the Dean of Sciences at McGill University in Montreal. But Plummer's blood, so to speak is much richer than that: his maternal great-grandfather was Canadian Prime Minister Sir John Abbott! As his parents were divorced shortly after he was born, Plummer was raised at the family home in Senneville, Quebec.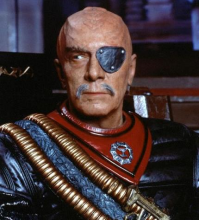 Plummer has a daughter, Amanda, who is also an actress. For those interested in counting, he's been married three times. His first marriage was to Tony-award winning actress Tammy Grimes (1956-1960). It was with Tammy that Amanda was born. His second marriage was to Patricia Lewis, from 1962-1967. His present marriage is with British actress and dancer Elaine Taylor, with whom he got married in 1970. The Plummer's currently reside in a 100 year-old farmhouse in Connecticut.
Though he originally was on a course of study to become a concert pianist, it's Plummer's stage and acting history that has caught our attention, and where he's been so honoured. His nominations and awards have been made or won in his home country of Canada, in the United States, in the United Kingdom, and in Austria. His awards and nominations are in truth too numerous to mention, but to give you an idea, here are a few key ones:
He won the London Evening Standard Award of Best actor in 1961 for his stage portrayal of King Henry II in Becket
In 1968 he was bestowed with Canada's highest civilian honour, being invested as a Companion of the Order of Canada
For his lead role in Cyrano in 1974, he won a Tony Award for Best Leading Actor in a Musical
Plummer won his first Emmy in 1976 as Outstanding Lead Actor in a Limited Series for Arthur Hailey's The Moneychangers
He won Canada's first Genie award for playing Sherlock Holmes in Murder by Decree (1980)
He won another Tony, this time for Best Performance by a Leading Actor in a Play, for his lead role in the 1997 play Barrymore
He made his way to Canada's Walk of Fame in 1997 as well
His most recent award was a Golden Globe for Best Supporting Actor for his performance in the 2010 movie Beginners.
The Golden Globe for his role in Beginners (awarded in early 2012), has also led to his second Academy Award nomination for the same film. His first Oscar nomination was for The Last Station. There's a lot of buzz this year that he's a frontrunner in the Oscar race for his role in Beginners.
You can also catch him playing the prominent role of wealthy industrialist Henrik Vanger, in the newest screen adaptation of Stieg Larsson's book, The Girl With the Dragon Tattoo.
Plummer took up acting after seeing Sir Laurence Olivier's film Henry V in 1944. As he began his career, he toured with the Canadian Repertory Theatre in Ottawa. But it was in high school that he first began to act. His filmography began in 1953 on the Ford Television Theatre (television series) as Othello. He made his film debut in the 1957 film Stage Struck. But the role he's perhaps most famous for was as Captain Georg von Trapp in 1965's The Sound of Music. It's well know that he's never been particularly thrilled with the role or the movie, in particular with being remembered for it beyond many of the other great works he's been part of. One of his truly gifted strengths is that he's always been known as a master of the Shakespearean Canon. It should be no surprise that Plummer's character in Star Trek VI (the aforementioned General Chang) was a Klingon expert at Shakespeare! (In fact, two of the interesting things in the Star Trek universe have always been a fondness for real, paper-based books, and for Captains and others who were able to quote Shakespeare.)
A few hundred words are in no way an adequate tribute for a stage and film actor with credentials and awards as numerous as Christopher Plummer's. For six decades he's kept us captivated, enthralled, awed, and entertained with his many stage, television, and film works. His voice alone is an allure to most who know of this talented Canadian actor. In addition to the quotes you'll read of Plummer in this Canadiana Connection series, we felt we'd leave you with one that stands out for us. It's taken from an interview he did with Jeff Stafford concerning his (Plummer's) autobiography In Spite of Myself: "I became a sort of boring film buff when I was fifteen or sixteen." Hard to believe; isn't it?
Photo Credits: Columbia Pictures and Paramount Pictures