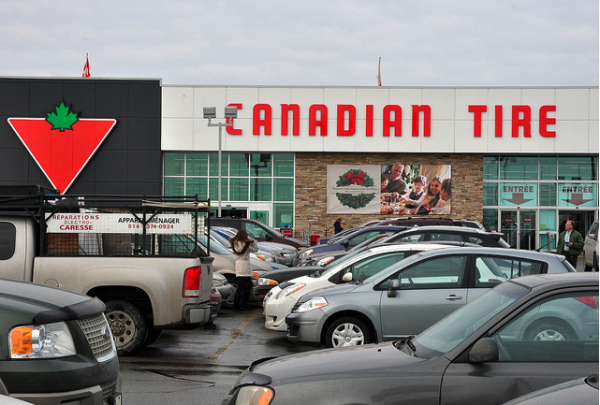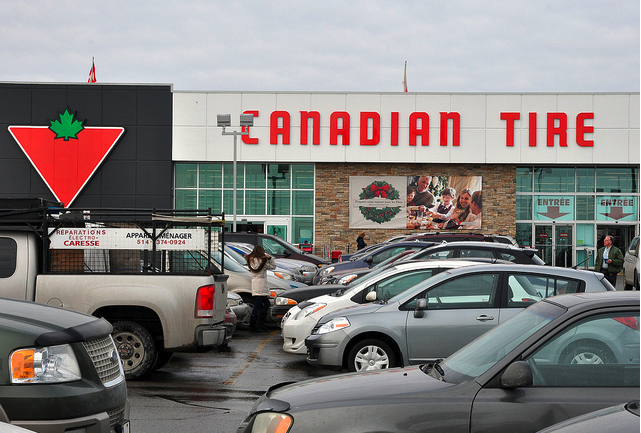 We were talking to one of our American ex-patriots, currently living in in Ontario, and she said this about first walking into a Toronto-area Canadian tire: "I thought it was a tire store!" Indeed. Canadian Tire is one of the most sought-after organizations in Canada to work for, and has under its umbrella Mark's Work Wearhouse®, The Forzani Group Ltd., PartSource®, Canadian Tire Petroleum™, Canadian Tire Financial Services, Canadian Tire Roadside Assistance® and—of course—Canadian Tire Automotive. This company is as iconic in Canada as is Tim Hortons, but in actual fact has been around longer. Here's more…
J.W. and A.J. Billes, in 1922, purchased the Hamilton Tire and Garage Ltd. Store at the corner of Gerrard and Hamilton Streets in Toronto. This cost the brothers a cool $1,800 in savings! Canadian Tire Corporation opened its doors to its first large store, at the corner of Yonge and Gould Streets in Toronto, in 1923. As their name and offerings spread, the Billes brothers published their first catalogue: this was in 1928. Still 'just' a tire store, buyers of the day would see their tire deals on one side of the catalogue, and a roadmap of Ontario on the other. What would become the massive chain of Canadian Tire stores began in 1934, with their first associate store (it opened in Hamilton, Ontario).
It could be said that the most recognizable Canadian Tire store — their main or flagship store — was located (and still is today) at the corner of Yonge and Davenport Streets in Toronto. In 1937, things were very innovative: the Billes' had clerks on roller skates, racing throughout the store to fill orders!
One of the reasons some consumers flock to Canadian Tire is to get a deal on the price of gas. In 1958, a two-sided move took place that was to change the chain's history. First, their inaugural 'gas bar' opened in Toronto at the site of their flagship store. And second, the collectible — though now worth less —Canadian Tire coupon (redeemable only for merchandise at their stores) made its debut. Things continued to go quite well for the organization, as in 1963 their new distribution centre opened; it was north of Highway 401, on Sheppard Avenue. Things got even better for Canadian Tire: in 1968, a former independent company called Midland Shoppers Credit Limited (they offered credit card processing for local retailers) became part of Canadian Tire, and were renamed to Canadian Tire Acceptance Limited.
In 1972 the organization celebrated 50 years in service by opening their first Saskatchewan-based store.
One of the highest awards a Canadian can receive is the Order of Canada. A.J. Billes, co-founder of the organization, was afforded the Member of the Order of Canada award in 1976. It was his contribution to the business community, and his generosity with employees, that garnered him the prestigious award.
1980/81 were big years for an already big company. In 1980, for the first time, their corporate gross operating revenues exceeded $1 billion dollars. By 1981, they had 334 Associate Stores, and over 100 gas bars and lube facilities in Ontario and Quebec. Ten years later, in 1991, a huge distribution centre opened in Brampton, Ontario, named after A.J. Billes. It was a 100-acre large facility!
Not just keeping up with the times, but being the innovators they always were, in 1993 they launched what was then the "most extensive store renewal and redevelopment" program in Canadian retail history. It was called the "class of" new-format store. The major effect this had was in ensuring the nationwide Canadian Tire experience would be the same for all shoppers.
The organization continued to expand into other business opportunities. In 1995, they launched Canadian Tire Financial Services. It was the first non-deposit taking financial institution worldwide to launch their own MasterCard (Options® MasterCard®). They grew their reach geographically as well: by 1997, 85% of the Canadian population lived within a 15-minute drive of a Canadian Tire store.
The organization's generosity easily became a much larger outreach and one of the results of that was the launch of Canadian Tire Foundation for Families. Designed to help families in need by meeting their basic necessities—things like food, shelter, and clothing—their 1999 debut helped families immediately. (Later, in 2005, this corporate giving was to expand to include what had already become a national concern: the inactivity of our children. The new name, and a slightly different aim, came out as Canadian Tire Jumpstart. Jumpstart helps kids in financial need participate in sports.)
The critical year 2000 saw Canadian Tire begin what they called their Next Generation store format. It promised to deliver a new store layout that would have new features, products, and services. A huge move — more like a leap—forward happened just a year later. In 2001, they launched online shopping, and it didn't take long for them to be one of the busiest e-commerce sites in Canada. Still working to refine the shopping experience, in 2003 they brought in their New Concept 20/20; this new layout promised to focus on store areas catering to the brand's foundational business (Driving, Playing, Living, and Fixing).
The organization hasn't been 'still' or without growth since the mid-2000s. In 2005, they formed a partnership with NASCAR and TSN. In 2008, they unveiled their new "Smart" store concept (more space was made for things like automotive products and sporting goods). In 2010, they launched three limited edition specialty Canadian Tire Money coins (showcasing family moments specific to the winter season). And in 2011, the organization acquired The Forzani Group Ltd., which was the largest retailer in Canada of sporting goods.
One has to wonder 'hey, what will they do next'. Us? We're keeping our eyes on this innovative, giving, national treasure to find out!