The Hunger Games is an exciting, futuristic, powerful movie, released in March, 2012. The movie is based on the best selling novel by Suzanne Collins, in which the nation of Panem has been separated into twelve functional nation-states called districts. The districts are controlled in the Capitol, a fortress city. Capitol is where the wealthy and powerful live, and is also where the Games are controlled from. The Games are a brutal, annual competition where 24 children ranging in age from 12 to 18 are chosen at random to compete to the death, until only one remains. These children are "tributes", and they're offered up each and every year. All districts are under a relentless, authoritarian rule.
In this bleak nation and world, among the many interesting or tragic figures, two Canadian actors found their place…
Alexander Ludwig plays Cato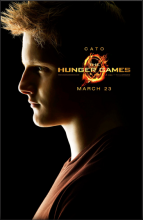 Alexander Ludwig was born on May 7, 1992 in Vancouver, British Columbia to Sharlene and Harald Ludwig. His mom is a former actress, and his dad, a businessman. Even though his mother had an earlier career as an actress, he had to convince his parents to allow him to start acting as a child: both parents felt there was a danger in doing so. That said, his career began when he was only nine years old! He was featured in a Harry Potter toy commercial. That allowed him to sign an agent, which led to more work in commercials. In 2000 he appeared in his first movie role in Air Bud World Pup. Following that he appeared in several movies, and in television (most notably the series The Dead Zone). His big break came in 2007 when he was only 15 years old: he landed the lead role in The Seeker: The Dark is Rising. He found even more success in the 2009 movie Race to Witch Mountain, acting alongside Dwayne Johnson. That movie premiered number 1 the weekend it opened. His next prominent role is the subject of this article.
In The Hunger Games, young Ludwig plays a character called Cato. Cato is a male tribute from District 2 of Panem. According to IMDb, this character is "brutal and bloodthirsty". He will do anything to win at the Games. In fact, he ends up being the last tribute to die in the 74th edition of the Games, when another character, Katniss, shoots him with an arrow (for hours before, he had endured being ripped apart by a pack of wolf mutations).
Alexander is rumoured to have an unknown part in the upcoming movie The Ring 3D.
Donald Sutherland plays President Snow
What can be said of famous Canadian actor/legend Donald Sutherland? There is no way a mere mention of his 'works' does any justice to his illustrious, hallmarked career. Sutherland's name can be mentioned in the same breath as Christopher Plummer's – another famous, classically trained actor. What we will say here is that Sutherland landed another pivotal role in The Hunger Games.
We'll start with a little history on this actor, then talk about his role in this movie. We promise we'll do full coverage of Mr. Sutherland in another series of articles.
Donald McNichol Sutherland was born on July 17, 1935 in Saint John, New Brunswick to parents Dorothy Isobel and Frederick McLea Sutherland. His dad worked in sales, and ran the local gas, electricity, and a bus company. Mr. Sutherland is an Officer of the Order of Canada, one of the highest civilian honours, and was awarded the same in 1978. In 2000, he was inducted into Canada's Walk of Fame.
Donald has been married three times, and his current spouse, since 1972, is Francine Racette. The Sutherland's have in total five children. Perhaps Sutherland's most famous child is Kiefer, a well-known actor in many ways in his own rights, who is most well known for his role in the series 24, for which he's won many prestigious awards.
Donald Sutherland's filmography is one of the lengthiest we've seen, so we'll simply mention a few highlights here. It began in a 1964 movie called Castle of the Living Dead, in which he played the dual-role of a soldier and an old witch! Since then, and for over five decades, Donald has appeared in numerous roles, a few of which have earned him much acclaim (The Dirty Dozen, Klute, Ordinary People, and JFK, to name but four).
In The Hunger Games, Sutherland plays President Snow. Though his character is killed off early enough, it seems he will make a lasting impression. In fact, Snow is the major antagonist. He's the ruler of the Capitol. He's hiding much: he seems laid back, but under that is a "sadistic and psychopathic mind". This character goes out of his way to terrify and threaten various tributes and other characters in the film. Repugnant to most, in appearance and in many other ways, he dies before his execution can be fully carried out.
The Hunger Games, within a few days of its opening, had been compared with Twilight in the sense that it is expected to become wildly successful. Made for an estimated $78,000,000, this movie took in a whopping $68,000,000 on its first full day of release.
It is a first in a trilogy written by the author.
Photo Credit: President Snow by Murray Close