If you have become familiar with either the Canadian folk or hardcore scenes within the last ten years, then you have probably heard the name Dallas Green. Originally from St. Catharines, Ontario, Green was born on September 29, 1980.
Named for the Phillies pitcher/manager after their 1980 World Series victory, Green led a relatively quiet life until his formation of his first band, Helicon Blue, which released several songs on a self-titled EP in the late 1990's before breaking up.
Shortly thereafter, Green began writing music under the name "City and Colour", as he wanted to dissociate his name from the music he made.
In 2001, Green joined Alexisonfire, a post-hardcore group that blends the grating noise between screaming vocals and heavily distorted guitar with Green's gentle, yet powerful croons. Their debut album, Alexisonfire, was released on September 9th, 2002. Even though the band described their early music as akin to "two Catholic high-school girls in mid-knife-fight," the album garnered gold certification in Canada.
Over the next seven years, Alexisonfire continued to tour extensively and release three additional albums: Watch Out!(2004), Crisis(2006), and Old Crows/Young Cardinals(2009). While an album over roughly two years doesn't sound terribly prolific, each album earned platinum in Canada, all while Green had released and toured under his additional solo project, City and Colour, which he started in 2004.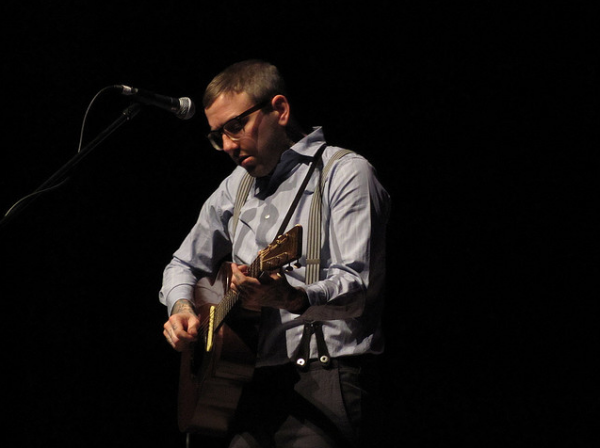 Although Green started writing material for this project as early as sixteen, he continued to work on it in addition to his collaborations with Alexisonfire. His debut album as City and Colour, titled Sometimes, was released in late 2005. The album itself was met with warm reviews, and it stands in stark contrast to his material from Alexisonfire, as it focused on what Green described as "sad music," which he used as a means to express himself on a personal level. Following the success of Sometimes, Green continued on to release two more albums, Bring Me Your Love(2008) and Little Hell(2011).
All three of his albums as City and Colour went platinum-certified in Canada, and within the last four years he has began to gain a heavier following in the United States through strenuous touring. He continued to tour and release music with both bands until Summer 2011, where he announced that he was leaving Alexisonfire to focus on City and Colour. His reasons for doing so were cited as the fact that his heart was no longer in Alexisonfire in addition to the overwhelming stress of performing in two bands. While his departure was met with strained relations from the other members of Alexisonfire, he stated that he enjoyed the run that they had.
Since the breakup, Alexisonfire has announced that they would be conducting one last "farewell" tour, although dates and locations have yet to be released.
Although Green has decided to focus his efforts on City and Colour, if you are not familiar with his works with either band, I would highly recommend that you take a listen. His musical spectrum is broad enough to appease even the most discerning listener, and every single song that he releases is imbued with the passion that he has for his work, no matter the genre. Dallas Green stands out as a musical talent destined for greatness on both Canadian and U.S. shores.
City and Colour Interview with Dallas Green