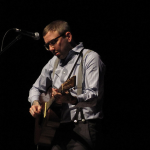 Green was born in St. Catharines, Ontario, in 1980.
For you baseball fans, Green was named for the Philidelphia Phillies pitcher/manager of the same name following their 1980 World Series victory.
Green played, toured, and recorded with two different bands for a span of six years, all while achieving platinum-certification with every record except for one! Talk about dedication!
Between 2003-2011, Green did guest appearances on 10 different albums, including Act 1: Goodbye Friends of the Heavenly Bodies, by Neverending White Lights.
Gordon Downie, the lead singer from The Tragically Hip, guest-sang on the song "Sleeping Sickness" from City and Colour's second album, Bring Me Your Love.
His album, Bring Me Your Love, was named after a short story written by Charles Bukowski.
Green married television host Leah Miller in 2008, who has worked with So You Think You Can Dance Canada and E! Canada.
In winter 2012, Green appeared on Kids CBC, retitling his song, "The Girl," to "The Gift" in order to make it fit into the block better.