In 2007 the world lost a true humanitarian, philanthropist, and theatre mogul. "Honest Ed" Mirvish was best known on at least two fronts: first, for the iconic store Honest Ed's. And second, for attracting world class acts, performers, and audiences to the Toronto live theatre scene. Ed was bigger than one city, however, and bigger than life itself.
Edwin Mirvish was born in Virginia on July 25, 1914 to Lithuanian Jewish immigrants. His father's name was David, and his mother's, Anna. Ed had one younger brother named Robert. Originally given the Hebrew name of Yehuda, the more Americanized name of Edwin was added later.
The Mirvish family soon moved to Washington D.C., where David opened a grocery store. Unfortunately, the store went bankrupt. In 1923 the family moved to Toronto. Ed's father worked at various occupations — including a door-to-door salesperson — until he was able to open another grocery store; this time on Dundas Street in the Jewish community. The family lived above the store, sharing their apartment with a Hebrew school.
When his father died — Ed was 15 at the time — he dropped out of high school to manage the store. In doing so, he became the bread winner for his young brother Robert, and mother. When that small business failed, he partnered on opening a dry cleaning shop, plus worked as a buyer for Loblaws founder Leon Weinstein. In 1941, he got married to Hamilton singer Anne Macklin.
Ed and his wife Anne for a time operated a dress shop (The Sport Bar) during the Second World War. Later on, he cashed in on his wife's insurance policy to open a new business that would remain a Toronto landmark even several years after his death.
Honest Ed's opened at the corner of Bloor and Bathurst in 1948. It was a bargain store, and then some! Everyone in the city eventually knew about it, and it became known for its very low prices. Ed was a showman even then, as he pulled all sorts of publicity stunts to get people to come in the door. As the landmark store gained notoriety, it also began to make millions of dollars every year. Funny, for a store that had corny slogans—e.g., Don't faint at our low prices; there's no place to lie down!—hand-painted signage, and inexpensive merchandise. One of the more charitable things he did, and this happened every year, was to give away free turkeys (yes, he was usually on hand personally) every Christmas. He gave away 10,000 pounds of free turkeys each year. When he hit 75 years of age, he began to hold an annual birthday bash outside his store. Once again, Ed was giving things away (food, entertainment, and children's rides). The parties attracted tens of thousands of people.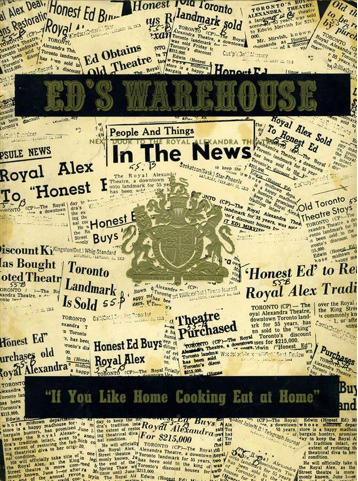 In a bold move, one day in 1962, Honest Ed purchased the Royal Alexandra Theatre in Toronto. The Edwardian building was originally constructed in 1907. By purchasing it, he saved it from demolition, and then he promptly refurbished it as a "classy and viable venue" for all kinds of productions, both touring and permanent. In 1982 he purchased and renovated the Old Vic in London, England. In 1993, he built the Princess of Wales theatre in downtown Toronto. It was specifically constructed at the time to house Miss Saigon. At the time it was built, it was the only privately financed North American theatre in several decades. Much of the present (King Street portion of the) Entertainment District is thanks to Mirvish. Some may not remember this, but in addition to refurbishing the Royal Alex (as it's affectionately called), Ed purchased a warehouse and turned it into a number of restaurants. Starting with Ed's Warehouse, others like Ed's Seafood, Ed's Folly, Ed's Chinese, and a couple of others were built.
Today, Mirvish Productions, through Ed's son David, stages and produces such well-known and received productions as The Lion King, Mamma Mia!, and many more. Mirvish also manages the Canon Theatre (formerly Pantages), which is across the street from the Eaton Centre.
Ed was no stranger to being recognized for his many contributions. Among the 250 awards he received in his lifetime, one was the prestigious Commander of the Order of the British Empire, and another Officer of the Order of Canada. Some of Honest Ed's awards and recognition came posthumously. For example, in 2008 a block of Duncan Street in the Entertainment district was renamed Ed Mirvish Way. That same year, a small parkette at a subway station kitty-corner to Honest Ed's was renamed Ed & Anne Mirvish Parkette. And in 2011, the former Canon Theatre was renamed Ed Mirvish Theatre.
In the end, Ed's life, in his own words, was nothing short of remarkable: "In spite of little formal education and very limited or practically no financial base, it has been possible for me to go from Dundas Street to Buckingham Palace".