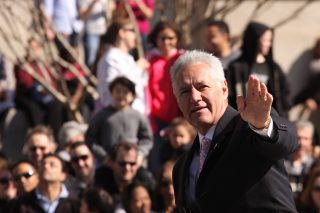 Alex was born in Sudbury, Ontario. His current wife is Jean, and the Trebek's children are Mathew and Emily.
As of 2012, Trebek has hosted Jeopardy! for 28 years.
Mr. Trebek has suffered two mild heart attacks in recent years: the most recent was during the summer of 2012, and the one before that, in 2007. In both cases, he made quick comebacks and was soon back on the set hosting the show.
Alex received some initial schooling from the Jesuits. After graduating from the University of Ottawa with a degree in philosophy, he found himself working for the CBC.
For a brief time, Alex was the only American television host in history to handle three games shows at the same time.
His interests are many, and his curiosity insatiable. By his own admission, he's curious about everything. For a long time, he owned and managed a 700 acre thoroughbred race horse farm. He also owned Creston Vineyards. Alex has a collection of vintage American hubcaps, one set of which is on display at the Smithsonian.
Alex contributes his time and energy to various charitable organizations, and is well-known for his work with USO.
In addition to Jeopardy!, Alex has hosted numerous other game shows in his lengthy TV career, and he's made cameo appearances on over 25 different shows (usually playing himself).