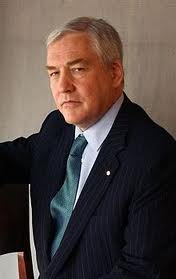 In the FULL COMMENT section of the National Post, in an article published three months before his release from prison in 2012, Black offered a number of interesting quotes on a number of subjects. Included in that piece, here are two interesting quotes:
On the NHL:
"As a sports fan generally, I'm a bit of a disappointment, even to myself. I lost interest in the National Hockey League when it expanded to places which never have freezing weather, and the Montreal Canadiens ceased to be the national team of French Canada."
On his marriage to Lady Black (Barbara Amiel):
"It has been my privilege to have much recent experience of the unconditional loyalty of a spouse, in circumstances a good deal less forgiving and transitory than a football game."
Some of Conrad's quotes are not 'useful', or of a variety that most Canadians could not relate to. For example:
"I made 50 million bucks yesterday. That's a flameout I could get used to."
Presumably speaking about his incarceration versus the potential incarceration of others Black once said:
"While few judges or prosecutors would be afraid to exercise their perfectly legitimate discretion in favour of an ordinary man, not to mention a minority group member, most would be terrified to exercise the same discretion for someone politically, financially or socially powerful."
Black has written several books, including autobiographies. In his book A Matter of Principle, of his trial judge Amy J. St. Eve, he said she was "extremely courteous and very efficient." He also added that he felt "she actually believed I was guilty of something".
On his egotistical reputation, Black wrote
"I'm reasonably upwardly mobile, but I'm not the ravening megalomaniac you read in the press."
Finally, a quote from Black concerning the irony of his treatment in the press for being pro-America:
"There was great irony, whose piquancy was never lost on me, that I, who have been denounced in the Parliaments of the U.K. and Canada for excessive pro-Americanism, should be so savagely attacked by the U.S. prosecution system."