At the relatively young age of 48, Pierre Elliot Trudeau was elected as the Prime Minister of Canada, winning a majority government for the Liberal Party. What was dubbed as "Trudeaumania" swept the country. Less than a year earlier, he had been a relative unknown on the national scene. But months earlier, he won the leadership convention, beating some political heavyweights. One of Trudeau's earliest defining moments came, the day before that fateful election in 1968, occurred during Montreal's annual Saint-Jean-Baptiste Day parade. Rioting Quebec separatists threw bottles and rocks toward the grandstand where the soon-to-be Prime Minster was seated. Trudeau rejected calls from his aides and security to take cover, and faced out the rioters with no sign of fear. That moment impacted and affected many Canadians, and they helped elect him to office the next day.
Present day: many years later, enter Justin Trudeau. The year is 2013 and the Liberal Leadership race was being bid for by Mr. Trudeau. He was running against, like his father had over 40 years earlier, some heavyweight competition, including the likes of former astronaut Marc Garneau. Justin handily won the leadership race, and was poised to run against the incumbent, Prime Minister Stephen Harper, in the next federal election.
Who is this guy? Glad you asked…

Born Justin Pierre James Trudeau on December 25, 1971, Justin is a politician who has served as a Member of Parliament in the riding of Papineau since 2008. He's the oldest son of former Prime Minister Pierre Trudeau, and Margaret Trudeau. Justin is married to Sophie Grégoire. They have two children, Xavier James and Ella-Grace Margaret Trudeau. He has two brothers—Alexandre and Michel (d. 1998)—and a half-sister, Sarah Coyne. Justin is a Montreal resident. His post-secondary education was at McGill University, and the University of British Columbia. Teaching (Math and French) was his passion before he became immersed in politics; something that happened progressively in the 2000's.
In Papineau, the Montreal riding the young Trudeau was first elected to in 2008, he has learned to embrace and has grown from a diverse culture: in his district, 50 percent of voters have neither English nor French as their mother tongue. He serves working middle-class families and small businesses. Like many, they have endured tough economic times in recent years. Not being content to keep his politics and passions local, Justin has crisscrossed the country, meeting with Canadians in all walks of life, sharing and talking about values he holds closely: youth empowerment, the continuing, wise protection of our environment/wilderness, and how we Canadians need to 'live up to our place' in the world.
No matter what your political stripe, well, it's hard not to like or admire Justin Trudeau. Just ask former Conservative Prime Minister Brian Mulroney! In an April 2013 interview on CTV's Power Play, Mulroney stated this: "What's not to like with this picture?" He went on to talk about Trudeau's political rivals, warning them not to underestimate him, saying that anyone who did "does so at his own peril".  He further remarked that Justin was "a man of some consequence."
As Prime Minister, Pierre Trudeau in the midst of the very dangerous October crisis of 1970 was on the eve of invoking the War Measures Act. This would prove a highly controversial move. His critics pounced on him, both outraged and to see if he was bluffing. The Prime Minister's response: "Just watch me." In March, 2013, in response to a question from a fellow airline passenger on whether Justin felt he could beat Prime Minister Stephen Harper in the next election, Justin's response was: "Just watch me."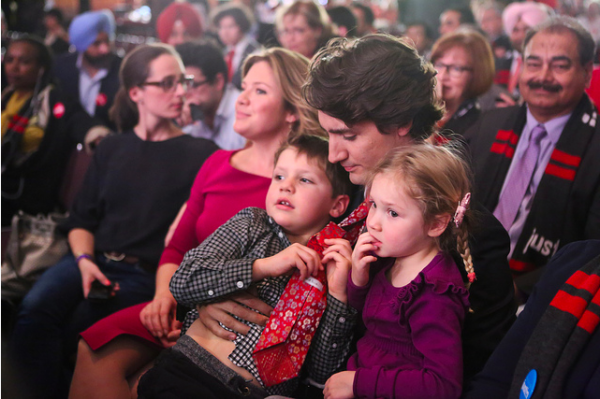 Images Courtesy of Justin Trudeau's Flickr Stream