Whether you're a Baby Boomer, and think it's wise to keep fit, or someone who made a lifestyle decision to do so early on, walking and jogging are great ways to keep in shape. Every year, in just about every city and town across this great land, there are opportunities to hit the pavement in various races, many of which aid charities or communities. But how about hitting the tarmac instead of the pavement?
If the thought of running on a runway interests you, you may be able to find one in a big city nearby (including one in a Canadian city, which I'll get to shortly). For example, the annual JFK Runway Run has been, well, running since 1972! Like its counter-parts, it's a 5K run. It attracts approximately 1,000 people every year, and it's held in April. The beneficiaries of the JFK Runway run have included organizations like the Gift of Life. This kind of run has caught on in the United States, Canada, and other countries. New York's LaGuardia held its first such event in 2012.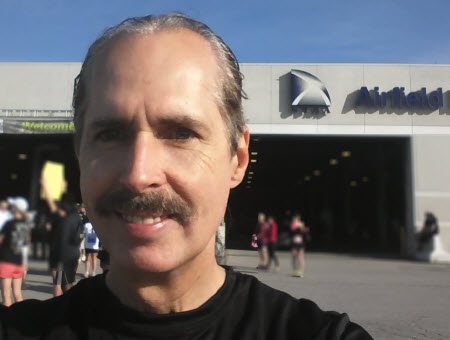 In June of 2013, yours truly hit the tarmac for the sixth annual Toronto Pearson Runway Run (read about at http://www.torontopearson.com/runwayrun/), along with approximately three thousand other runners and walkers. Yes, that's a picture of me, taken before the run … I still look like I have some energy! The Greater Toronto Airports Authority (GTAA) / Toronto Pearson committed the funds raised in 2013 to the Toronto Pearson Community Investment Program. The year before, the Toronto run raised over $200,000 for Hope Air. According to Canadian Skies online magazine, "Hope Air provides free flights to get low-income Canadians to specialized healthcare that may not be available in their home communities". The money raised in 2012 helped them make 600 such flights, many of those, coincidentally, flying into and out of Pearson, to get people much needed care at various Toronto-area hospitals.
When the Pearson run started back in 2008, it was mostly employees of Air Canada or the GTAA and their families that ran, hoping to raise money to help stock emergency rooms with specialized equipment like Heart monitors and so forth. Things have changed in a few short years!
Whether a 2K walk (which the Pearson run offers), a 5K run, or something a more taxing—and whether or not on an airport runway—you can make improvements in your health by taking the first few steps. In my case, it took me quite a long time to work up to a 5K run.
Numerous organizations sponsor such events every year, all year around. If you'd like to get more involved in walking or running, here are two great websites to start with: My Next Race, which you can find at www.mynextrace.com, and The Running Room, at http://www.runningroom.com/hm/. Both of these companies help facilitate and motivate you toward a healthier, more active lifestyle. My Next Race has a searchable calendar of upcoming races, but also lets you review races you've been in, and do much more. The Running Room, an institution in and of itself, offers running and walking clinics, specialized clinics, great advice, and tons of products.
The next time you fly in or out of a large airport, picture the runway beside you buzzing with hundreds or thousands of runners doing their thing, and supporting good causes. If that doesn't do it for you, picture yourself getting your exercise in a different kind of environment.