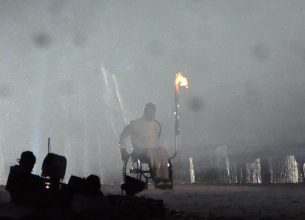 For Rick, his Man in Motion World Tour, and even being named a Companion of the Order of Canada, weren't/aren't enough:
"I honestly believe that my best work is in front, not behind me. I am driven by a deep passion and need to make a difference and leave this world a little better than when I arrived. That's what keeps me going."
A living inspiration and a man of his words, Rick said
"There is nothing you can't do, if you set your mind to it. Anything is possible."
And he's proved that, several times. Rick has inspired legions of people. One of those was six year-old Aluki Chupik-Hall. She has scoliosis; a condition that often requires her to wear a back brace for 23 out of 24 hours. Inspired by what's perhaps Rick's most well-known quote,
"If you believe in a dream and have the courage to try, anything is possible",
she's done everything from ballet to rock climbing.
In his book, Man in Motion, Rick's said the following before he embarked on his world tour:
"How dumb does a guy have to be … falling in love just before he's about to go wheeling off around the world?"
Though it may not be well-known, the driver of the pickup truck who lost control, causing Rick to spill out from the bed of it and suffer his spinal cord injury, was driving under the influence. In a 2010 interview with Sarah Hampson of The Globe and Mail, Hansen said this:
"I have never seen the driver since the day of the accident".
After so many tangible, life-changing accomplishments, Rick is probably as shocked as the rest of us at the pace of life. On this he said
"You look back and feel overwhelmed by how quickly time goes by".