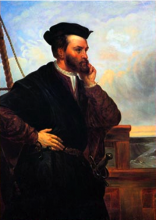 Jacques Cartier was a French explorer who made three journeys to what would later become Canada.
The first was in 1534 on behalf of Francois I, the King of France and was in search of a passage to Asia. He sailed into the Bais des Chaleurs and landed on the Gaspé Peninsula. He returned in 1535 and sailed up the St. Lawrence River to Stadacona. His third voyage in 1541 was for the purpose of establishing a French colony. His visit was not considered a success but he saw more of Canada. During his explorations he discovered the Cabot Strait and determined that Newfoundland was an island, climbed Mount Royal which lies in Montreal, discovered many islands on the east coast and sailed around Prince Edward Island.
Cartier lived in the town of St Malo, France which is where he returned after his third voyage. He lived there until his death in 1557.
Many of the names that Cartier gave to places in Canada have remained for over 460 years. Names such as St. Lawrence, Mount Royal, Chaleur Bay, among many. Perhaps the most internationally famous name he coined was "Canada".